Home »

Products

» Dental Implants
Dental Implants Treatment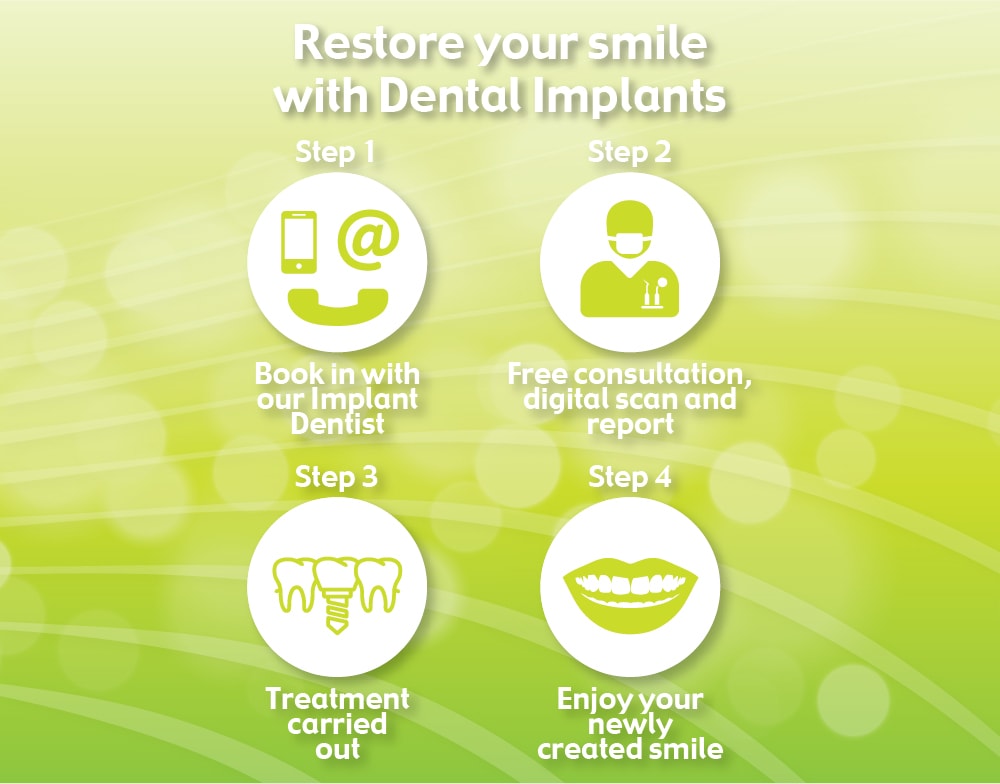 Description
No matter if you're missing one tooth or a full jaw, a dental implant is an excellent solution and could be the perfect treatment for you. They are the most highly regarded form of dental prosthetic currently available to patients. Fashioned from high grades of metal, they are the closest dentists have gotten to artificially replicating a natural tooth root. The simulation of anchoring dental crowns or dental bridgework using implants creates a permanent solution for our patients which, for many patients, can be life-changing.
The entire treatment process is planned and executed to an incredibly high standard, and while treatment times can vary, having implants is a generally a straight-forward process able to be completed in as little as four steps! If after having your free initial consultation you decide to go ahead with the treatment, preparations will begin. The necessary checks will be completed and advanced strategies will be utilised to give you incredible results and the easiest recovery possible.

| TYPE | DESCRIPTION | STRAUMANN - Swiss | OSSTEM - Korean |
| --- | --- | --- | --- |
| SINGLE FRONT TOOTH (Incisors & canines) | The additional £300 is for an angle post | £1,995 | £1,350 (+£300) |
| SINGLE BACK TOOTH (Premolars & molars) | The additional £300 is for an angle post if required | £1,995 | £1,350 (+£300) |
| 3 FRONT MISSING TEETH | 2 implants with 3 teeth made in porcelain | £4,590 | £3,900 |
| FULL UPPER REMOVABLE | 4 implants with acrylic teeth | £9,000 | £6,500 |
| FULL LOWER REMOVABLE | 2 implants with acrylic teeth | £4,990 | £3,700 |
| | | | |
All our dentists have received training in Implantology and Dr Zuber Bagasi who is our Head Implantologist, trains and mentors, other dentists, on Implants too.
Getting sick of your dentures?
Shifting, slipping, and chatter are removed from the equation
The speech is not affected, as with regular dentures
You can bite/chew as you would with natural teeth
You can enjoy your favourite foods again especially if you miss eating steak!
You will have improved comfort, security, and confidence especially when talking to friends and family
Your ability to taste may improve as we have noticed in some cases
Help to minimise bone loss and avoid that saggy face appearance
Look attractive as teeth play a major role in first impressions
Simply enjoy life the way you should and deserve to
Dental implants can help to improve your overall quality of life.
Help to prevent bone loss
Allow you to bite and chew naturally
Allow you to enjoy your favourite foods again
Help to improve your eating habits
Help keep other teeth in position
Allow you to speak naturally and feel like yourself
Help you to feel more attractive
Provide a permanent solution for missing teeth
Simply help you enjoy life to the fullest
View dentists profiles and their previous work.
Step One: Consultation
In your initial consultation, you will receive a detailed examination of your mouth, face, and medical and social history. You may also be eligible to have a CT scan taken if required. X-rays are also available for those who wouldn't need a CT scan. All of this is £20.00 under Synergy's private band 1. A final report will be sent across to you within 48 hours. You must approve this before further treatment is carried out.
Step Two: Consent
This stage is very important, as we will always give you the time to consider whether you're happy to continue with the proposed treatment. We will then book a separate, complimentary appointment with your dentist. This gives you the opportunity to ask any question or make your dentist aware of any concerns you might have. We are pioneers in digital dentistry. As such, we will plan the surgery using a digital CT scan. This will provide the surgeon with a replica template of your jaw, allowing them to position the implant precisely. This is called 'digital CT-guided surgery'*.
Step Three: Surgery Date
Assuming you and your dentist have agreed to go-ahead, the surgical appointment will be booked. The surgery may require either local anaesthetic or sedation; this will depend on your dentist's recommendation and the complexity of the surgery. Along with a teeth extraction or bone grafting if necessary, the treatment will offer temporary teeth (either dentures or temporary bridges) meaning each patient will have the opportunity to leave their surgical appointment with new teeth. It will take approximately 3 months for your implants to heal. During this time, your dentist will review you several times in order to monitor the healing process.
Step Four: Permeant teeth construction
Soon after the implants have healed, a special appointment will be booked to discuss refining and constructing your permeant teeth. You will be able to fully customise the final shape, size, and colour of your permeant teeth.
Stage Five: After Care
With the single-biggest reason for implant failure being lack of aftercare, Synergy strives for excellence in this area. You will receive regular 3-month check-ups, involving x-rays, cleaning, and maintenance. This will ensure the longevity of the prosthetic and make sure your mouth is consistently kept healthy.   * We will only use CT-guided surgery if your dentist believes it will help avoid unnecessary trauma during and after surgery.
Select dental procedure you want to learn more about. Use our Dental Finance Calculator to approximate your treatment monthly cost…