Home »

Products

» Composite Bonding from £65
Composite Bonding from £65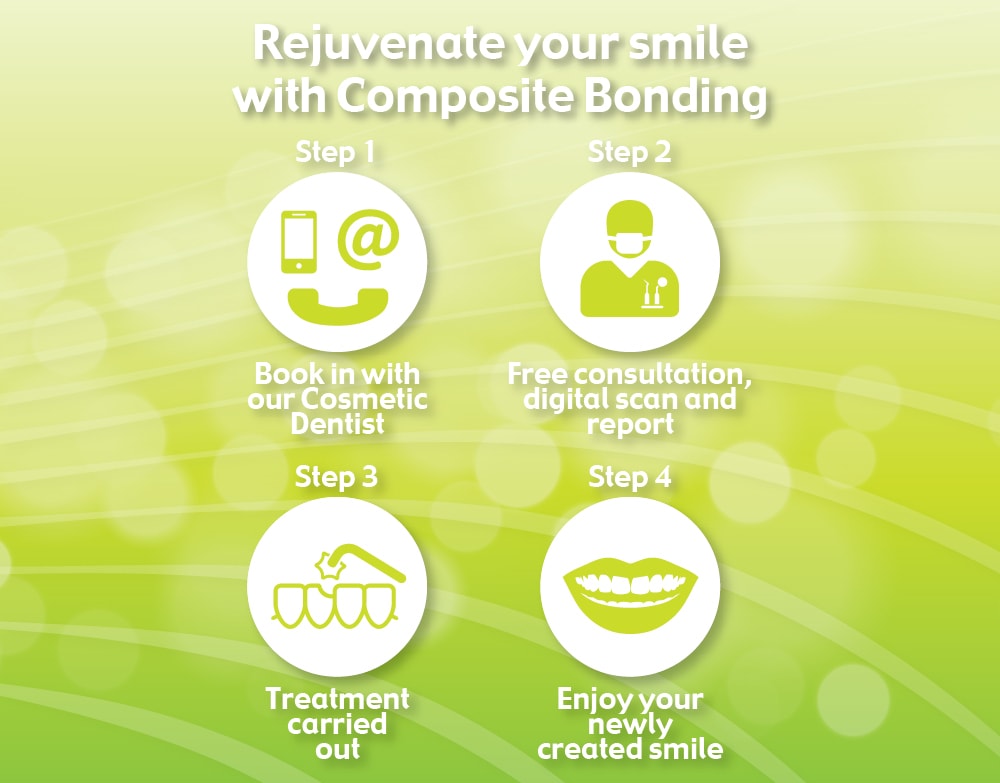 Description
What is composite bonding?

As the name suggests, composite bonding in the use of composite material that is then bonded to teeth in order to reshape, rebuild, or fill damaged teeth. It is a very simple cosmetic procedure, but it also has a huge amount of potential for different kinds of repairs. By bonding composite materials to the teeth, dentists are able to shape certain teeth to their original appearance – including matching the colour to your existing teeth.

What is the treatment process?

The treatment itself is very simple, and it can normally be done in just one simple appointment with your dentist. It requires your dentist to first match the colour of the composite resin with the rest of your teeth. This will ensure that the smile will be consistent and look as natural as possible.

The surface of the tooth will then be roughened and coated with a bonding agent, on which the resin will adhere to. The resin will then be placed onto the area required and moulded into the correct shape. The last touches will consist of curing the composite resin and refining the tooth further.

Why would I need composite bonding?

What makes composite bonding such a requested treatment for many patients is its effectiveness for resolving a variety of cosmetic dental issues. There are alternatives out there, such as veneers and crowns, but composite bonding can benefit patients because it is a much simpler and much more cost-effective solution to those other treatments.

A patient may want to look more into composite bonding if they are struggling with chipped teeth, fractures, or other cosmetic improvement to the teeth. It is likely, if the damage is minor and easily fixed, that your dentist will recommend this treatment over more expensive treatments. Dental bonding can also be used to match the colour of certain teeth with the colour of your other teeth (i.e. if you had one or more particularly discoloured teeth).

Many patients will be limited with the amount they can spend and may, also, want to avoid any invasive treatments. With veneers and crowns, there is a level of invasion that a patient will need to be aware of. For example, parts of the teeth will need to be permanently removed in order to get these treatments. This is not the case for bonding treatment, as the structure of the permanent teeth will remain intact and only the composite material will be refined once it is hardened onto the tooth.

Just about anyone over the age of 18. You don't have to belong to a private dental plan. You don't even have to be a regular visitor at this practice.

You can use the loan to pay for most dental work, but it's particularly suited to more costly private treatments, such as dental implants, orthodontic, aesthetic or cosmetic work. If you're not sure whether it's right for your treatment, please ask your dentist.

Typically between £500 and £25,000 depending on the course of the treatment. This will be subject to 'on-the-spot' credit check. Most patients' applications are approved there and then, so you can go ahead and schedule treatment immediately.

Much like any other loan, you repay it in affordable monthly payments over an agreed term. These payments are collected by Direct Debit.

You pay the cost of your treatment – no more and no less. Interest-free means just that!

What are the repayment terms?

Your dentist will be able to go through the various terms with you and agree the most suitable repayment period.

Once you've agreed on a course of treatment – and a cost – with your dentist, we'll make the credit application on your behalf. As soon as the credit check is complete and the loan process, you'll receive written confirmation from the credit provider Simpler as that!

Who is the credit provider?

We're working with one of the most respected credit providers in the business. Ask your dentist for details.

How often can I use the facility?

You can apply for an interest-free loan for each course of treatment, subject to the usual credit check.

The benefits: at a glance

For anyone considering using our interest-free loan facility to fund their private dental treatment, the benefits are clear.

You get the treatment you want – treatment that will make you look and feel a million times better.
You get to spread the cost of that treatment over a period that suits you.

Because it's interest-free, our 0% loan can be a much more affordable alternative to credit cards or bank loans. It's easy to apply and simple to repay by Direct Debit.

To discuss the benefits in more detail, speak to your dentist or one of the practice staff.