Full-arch implants might be costly, but they can really change your life forever. As the most realistic replication of a tooth in modern-day dentistry, find out how this gentleman's life changed in a matter of months.
You aren't the only one feeling self-conscious about your teeth – many people probably feel like they could improve their smile in some way. It's a far cry from a purely cosmetic issue, though, when problems like tooth loss is having a detrimental physical and social impact. It's something that should be addressed sooner rather than later, as missing teeth can quickly wear down your self-image.
We can lose our teeth for various reasons from gum disease, tooth decay, oral trauma, and more. Once we lose our adult teeth, we don't get them back, and prosthetics to replace them can be quite expensive. We want everyone to look after their teeth while they have them, but unfortunate circumstances sometimes leave us with no other options.
One of the main reasons dentists don't like to see people missing teeth is because of the burden it can have on your mental health. Your smile is often the defining feature of your face and one of the first things people see, so it is glaringly obvious when someone is feeling insecure about theirs. More consequences of having missing teeth are the potential for it to misalign the rest of your remaining teeth, change the shape of your face, and even cause jaw bone loss! it just goes to show how important teeth are…
Dr Zuber Bagasi has treated many patients in his career with similar situations, but recently saw a gentleman who was particularly struggling with his upper jaw. Having lost all of his upper teeth, Zuber's patients were struggling to decide how to proceed forward. Thankfully, he got his appointment with Zuber quite quickly, based at Synergy Dental Blackpool.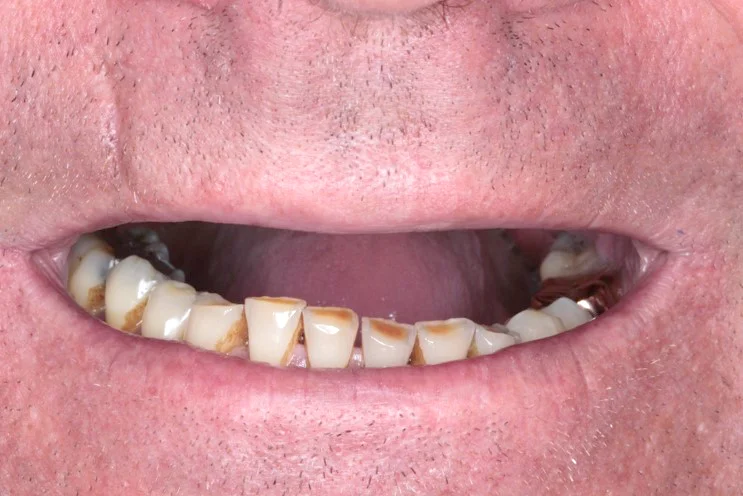 Step one: preparing for full-arch implant surgery
Zuber met with his patient for a short initial consultation before any surgery started. The initial appointment is essential for a dentist, as it allows them to spend some time with the patient one-to-one. Here, he was able to discuss any problems or concerns he had. Zuber than had a brief check of the patient's mouth to figure out which treatment he would be suitable for.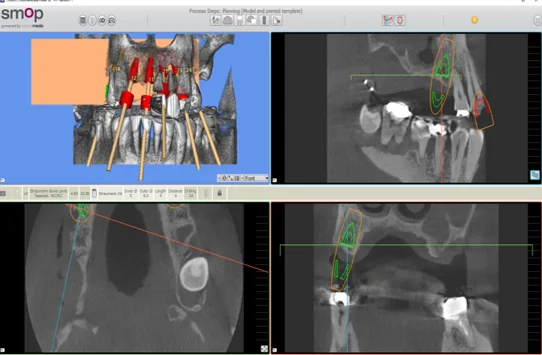 While slightly apprehensive at the prospect of surgery, the patient was generally very pleased that Zuber suggested implants would actually be suitable. Along with 6 Straumann© Implants, Zuber also suggested a new denture could also work, but the patient seemed keen to have the permanent feel of an implant-retained upper bridge. It was decided! Zuber later booked him in to take a CT-scan and began drafting his fully personalised report.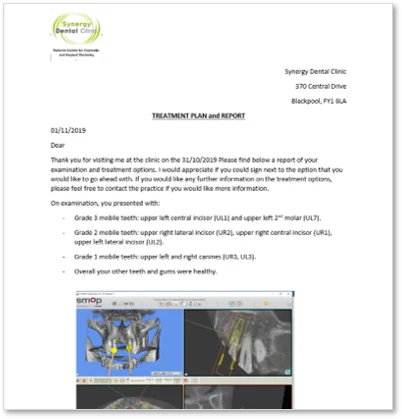 For implant treatment, your surgeon will need either an x-ray or a CT scan to plan the placements of your implants. CT scans are typically more precise since they give a clear idea of jaw bone width. This is a very beneficial advantage for a surgeon when proposing the placement of implants. After having his CT scan taken and his report drafted, the patient happily consented to the surgery, and Zuber had his appointment booked as soon as possible
Step two: full-arch implant surgery and healing
Since we use our own CT scans from the clinics rather than doing this on a referral-basis, it makes CT scans far more accessible for everybody. This, in turn, makes implant procedures far less invasive or painful because we can premeditate the placement of the implants in the jaw. Traditionally, an incision would need to be made across the gum tissue to access the jaw bone, and a 'free-hand' approach would need to be used to place the implant according to feel and experience. This means that the post-operative stage of the procedure would be a lot more painful for the patient.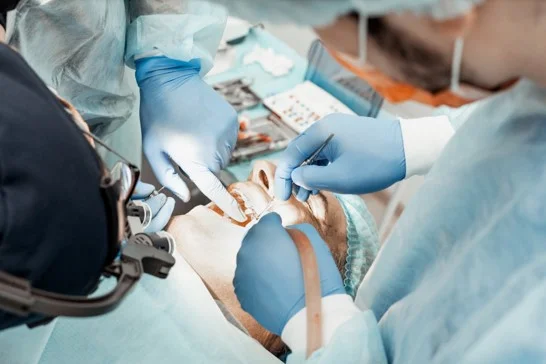 This patient used the CT scan-guided method for his implant placement, meaning no incision needed to be made during the surgery. A hole is then created, similar to how a hole puncher would create holes in a piece of paper, where the implant would be fit to begin healing.
Once the 6 Straumann© implants had been placed, the patient was issued with a temporary denture to see them through the healing period and continued to return for regular interim appointments. This meant Zuber was able to monitor the healing over the next three months, and ensure they were healed completely before the next steps were planned and executed.
Step three: impressions, bite, and try stage
Next, we get the stages which lead to the final fit. In these next few stages, your dentist will take impressions, assess the bite, and try in a mock-up version of the final bridgework. This patient's impressions were taken via traditinal moulds, though digital scans are also an option for creating bridgework.
His impressions were sent straight to our laboratories were the mock-up for the final bridgework were created and ready to be tested out. Bite registration is also taken to ensure that we know the patient's comfortable bite. The wax-try stage is very important to ensure the final bridgework is fitted on schedule. During the try stage, Zuber was able to have the necessary alterations made fairly quickly to the final bridgework, making it perfect for the reveal.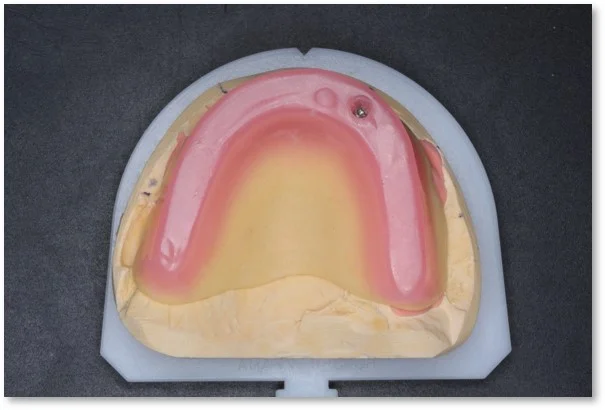 Once completed, the wax-try bridgework is tried in again with the titanium framework, which is a component used to ensure the stability of the bridgework. This also allows your dentist to double-check everything, again, is impeccable for the final version of the bridgework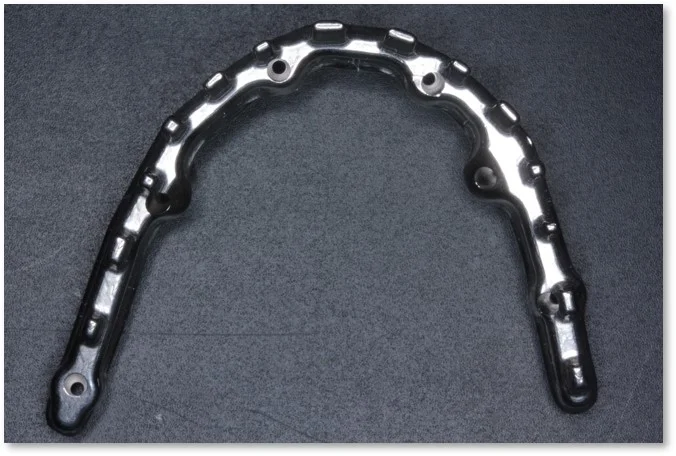 Stage four: the final fit
On the final day of the treatment, Zuber's patient was presented with the permanent bridgework! This was the day that his smile was changed completely. He had his bridgework attached to his full-arch implants to create a permanent replacement for his missing upper teeth. Once he saw the change, he was speechless and couldn't stop smiling – something he'd been struggling to do for quite a long time!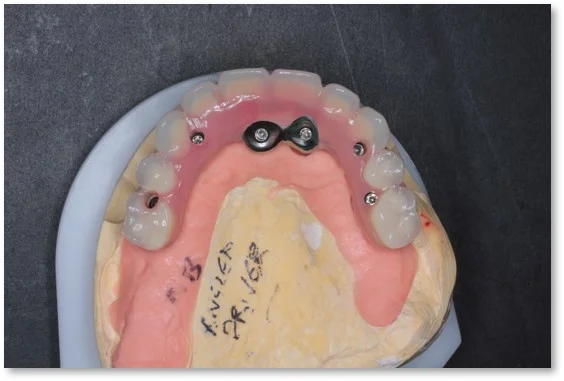 Zuber and his team were satisfied with the outcome and incredibly pleased with how happy the gentleman was with the results. Take a look at the change from the before and after pictures below.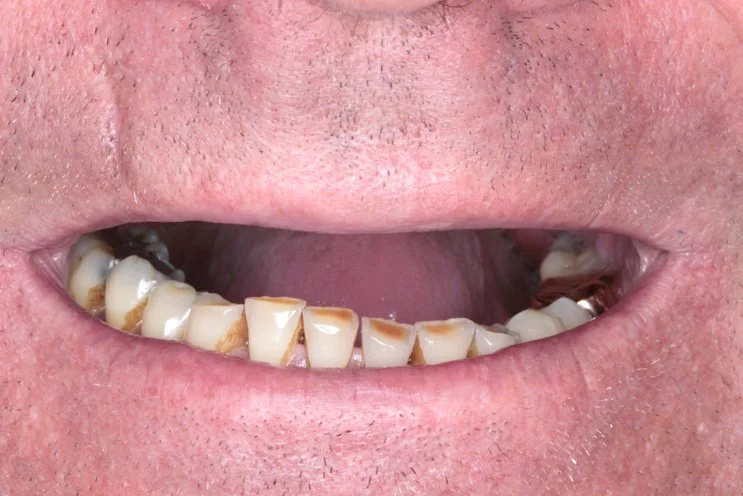 ---
Unsure about your dental health? Call your nearest Synergy Dental Clinic and we'll be happy to