Full Same Day Implants
£11,995.00
Includes:
* 4 to 6 Straumann Implants on the upper/lower jaw
* Fixed permanent hybrid bridgework with 10 teeth
* All extractions
* Temporary denture
* Bone grafting
* CT scan
* Surgical guide
* 5 years guarantee on implants
If you are interested in this treatment, book your appointment now for just £20. In this appointment you will receive:
– A thorough dental examination
– 2 x-rays
– A scale if clinically required
Our Implant Surgeons will also carry out a professional consultation regarding the treatment you have booked. They will undertake a digital scan of your mouth as well as a C.T. Scan if required and then able to discuss the best treatment options to meet your needs. A bespoke report will be emailed out to you after the consultation.
Description
Why Choose Synergy?
For just £20, we provide you with a full examination, two x-rays, a scale (if required) and your comprehensive dental implant consultation.
Free CT scan worth £250, which is a 3D view to establishing bone levels to see if you're suitable for implants.
0% interest-free finance available! We work closely with the best credit companies in the U.K.
Prices start from £11,995, which includes all of the following:
4 to 6 Straumann implants (the highest quality dental implants in the world)
Fixed permanent hybrid bridgework with 10 teeth
All extractions
A temporary removable denture or a fixed bridge
Bone grafting
C.T. Scan
Surgical guide
5-year guarantee on implants
Before and After Cases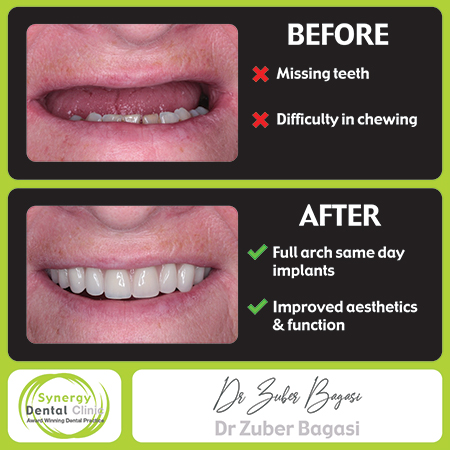 Please follow the link for Smile Gallery
Pricing Table
TYPE
DESCRIPTION
STRAUMANN - Swiss
OSSTEM - Korean
SINGLE FRONT TOOTH (Incisors & canines)
The additional £300 is for an angle post
£1,995
£1,350 (+£300)
SINGLE BACK TOOTH (Premolars & molars)
The additional £300 is for an angle post if required
£1,995
£1,350 (+£300)
3 FRONT MISSING TEETH
2 implants with 3 teeth made in porcelain
£4,590
£3,900
FULL UPPER REMOVABLE
4 implants with acrylic teeth
£9,000
£6,500
FULL LOWER REMOVABLE
2 implants with acrylic teeth
£4,990
£3,700
FULL SAME DAY IMPLANTS
Includes:
* 4 to 6 Straumann Implants on the upper/lower jaw
* Fixed permanent hybrid bridgework with 10 teeth
* All extractions
* Temporary denture
* Bone grafting
* CT scan
* Surgical guide
* 5 years guarantee on implants
£11,995
per jaw
0% Interest Finance Available