Dental implants are an incredible opportunity. They offer people with missing teeth a permeant solution. The laboratory puts them together carefully to fit everybody's mouth uniquely. If you aren't happy with alternative solutions (such as dentures), read more of this patient's implant story, and find out if the treatment is for you.
This Synergy patient, who has preferred to remain anonymous, made a self-referral to our clinic. She was inquiring about a fixed solution to her missing front tooth. Like many, this patient was becoming increasingly conscious of her denture, and it was beginning to affect her confidence at work and with her family and friends. She used Synergy's secure online booking system to get a direct appointment with Dr Bagasi. This began the initial stage once the patient confirmed she was happy to progress.
The first step for dental implants
The patient was admittedly slightly apprehensive about the process. Dr Bagasi was fantastic in making sure she was completely comfortable. Everything was explained to her thoroughly before the procedure went further. Her suitability for dental implant surgery was first taken into consideration.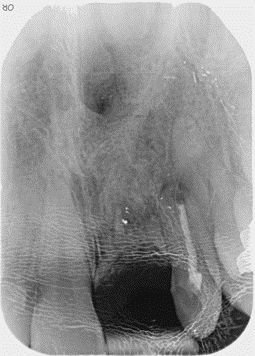 After a full assessment of the patient's health and suitability, Dr Bagasi began taking photos and x-rays. CT scanning is an alternative when the procedure has the risk of having a more invasive effect on the patient.
Dr Bagasi then gave the patient the final report and approve. This report includes information such as the diagnosis and proposed treatment options, costing, timescales, risks and benefits. This is an important part of every procedure, which reflects Synergy's transparency.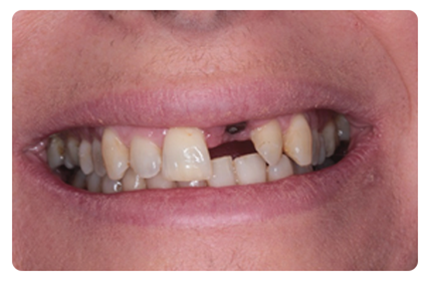 Part of the initial stage involves having a custom-made denture created for each patient. This can then be used as a substitute for before the surgery and during the healing process. This didn't apply for the patient in question, though, as she already had a denture made to fit.
Fitting the dental implant
The actual procedure was very simple to complete. Due to the patient only needing a single implant, the surgery took no longer than 20 minutes. The surgery was completed while the patient was under local anaesthetic.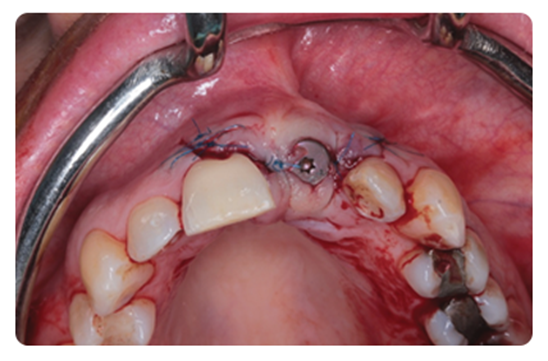 Every patient must first go through a period of healing. So, unfortunately, the patients are not able to have the actual crown fitted until this healing process is fully complete. This is a precaution to avoid possible complications after surgery and to allow the implant to integrate correctly.
Healing dental implants
The single dental implant procedure had little risk of being invasive. In fact, the patient was up and back to work the next day after surgery. The implant began to heal and integrate correctly with the bone (minimum 3-month period). This period is important and put into place to avoid complications with the new implant because applying pressure to a new implant could increase the risk of failure.
During this 3-month period, Dr Bagasi and the team kept in regular contact with the patient. Each dentist will always do this to avoid making any of our patients feel alone during their healing time. This also allows the patient to easily ask any question or queries during this process.
Refinements
After the 3-month period, the fitting of all the components began, including the titanium post (which can also be made from Zirconia if required) and the porcelain crown. The images below show how Dr Bagasi scaled all these components onto a mould first. The next step was to fit these parts permanently.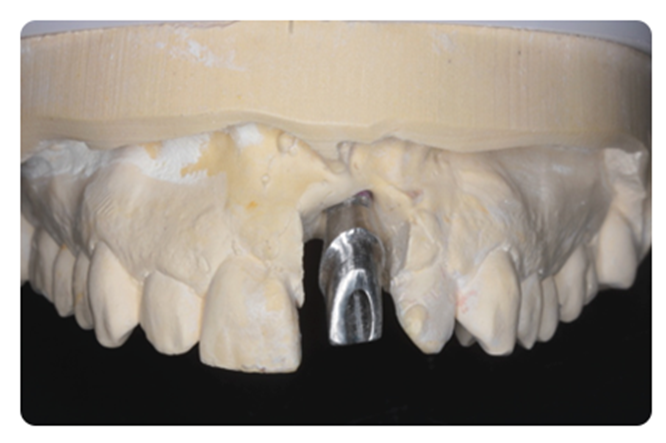 Aftercare
After all the treatment was complete, Dr Bagasi offered additional maintenance services from the team. If for any reason a patient didn't take this offer, Dr Bagasi would've explained the relevant self-care and maintenance the implant needs. If they were a referral patient, their discharge letter would have been given to their regular dentist for further advice.
All in all, the patient was incredibly happy with the results from Dr Bagasi and gave her stamp of approval to Synergy for the excellent service and treatment she received. Take a look at how different this patient's smile is below.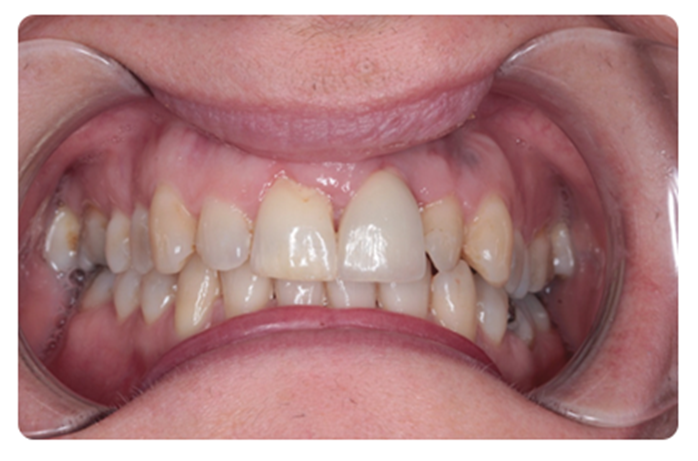 ---
Unsure about your dental health? Call your nearest Synergy Dental Clinic and we'll be happy to help.