If you feel insecure about your teeth having many gaps, you aren't the only one. Find out how Dr Salim's patient had him smile changed forever!
The Synergy Dental Group are keen believers in the power of a smile. It isn't just us, as you'll find many others also find the same. The relationship between oral health-related quality of life (OHRQoL) problems and mood alterations, for example, seems to be evident (1). Simply put, feeling conscious about your smile or having oral health problems can increase your chances of having bad mood swings as well as other mental health problems. Cosmetic dentistry could help!
Cosmetic procedures aim to alter the smile to restore a natural and beautiful aesthetic. Over time, involving enamel erosion from poor oral hygiene, your teeth can begin to turn yellow – a completely different shade from the natural white that is. This remains true for dozens of other dental problems which can also be resolved through cosmetic treatments, as the possibilities of altering a person's smile can change their life dramatically.
One of our very popular dentists, Dr Bilal Salim, is a master at cosmetic treatments and loves the outcome of a good smile makeover! He's almost certainly working at our Farnworth Synergy practice where he treated one patient in particular for a complete smile makeover. This patient resented his upper teeth completely. Feeling this way about your teeth can also cause personal difficulties seen as your teeth are usually front-and-centre on your face. He was very embarrassed about his situation and was becoming more insecure by the day. As you can see from the images taken at his initial appointment, his upper jaw was very misaligned, leaving wide gaps spaces between the yellow-stained teeth. This is his story…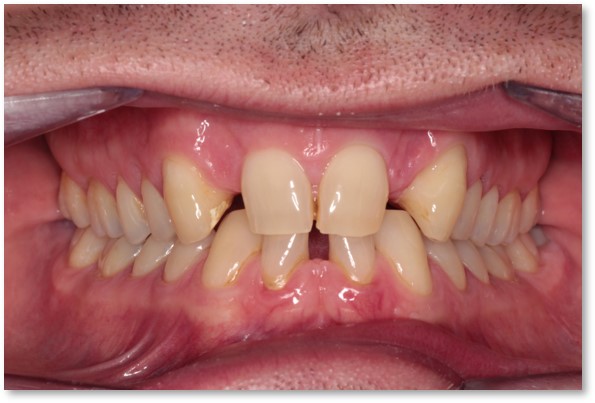 Step one – initial cosmetic appointment
Like any other dental procedure, no matter how simple or complicated, we always need to meet our patients for face-to-face initial consultations. Not only does this give our dentists the time to get to know you as a person, but it also allows us to investigate your oral health to make sure we understand what treatments would work best for you from a clinical standpoint. This is crucial.
He attended his initial consultation, and Dr Salim was able to identify straight away how much of an effect his teeth were having on his confidence and personality. Like many other clinicians, Dr Salim was unhappy seeing patients feeling shy and introverted simply because of how their teeth looked so felt determined to help. After an initial observation of the teeth, and gum health, along with x-rays, Dr Salim suggested that the patient could close the spaces between his teeth with either bridges, implants, or dentures. Alternatively, teeth shape, size, and colour could be improved with whitening, composite bonding, and veneers.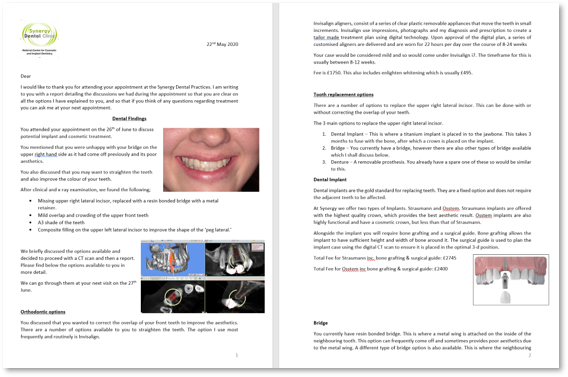 The second option felt like the best for him, personally, and they later agreed on a treatment involving Enlighten© teeth whitening, custom-fit Emax veneers, zirconia bridges, and composite bonding. To summarise this, the entire treatment plan was created to clearly outline what would happen during the treatment. This includes all the details of the process; treatments, including all individual treatments in this patient's case; and costing. Once the patient was happy with all these details, he consented to go forward with the process, and all relevant appointments were booked soon after.
Step two – whitening and scans
The patient later returned to see Dr Salim to start the necessary steps for his whitening treatment. The patient was recommended a home-based whitening treatment that could be completed while his bridgework and veneers were being constructed. Enlighten© requires having a customised mouth tray to be used at home, so a digital scan was taken of this patient's mouth.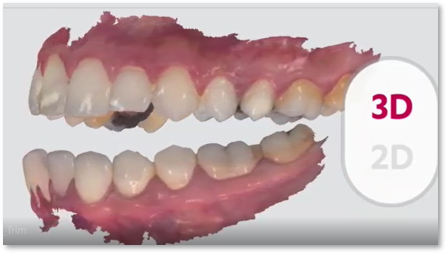 The scans work two-fold, as they can be used for both the whitening and to create the wax try. This gives the dentist and their patients the chance to see what the smile is expected to look like. From there, any final changes can be made before the final version is created and fit.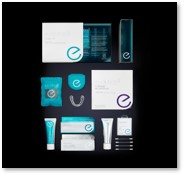 The patient will be given a complete whitening kit to be used at their home which should be done over two weeks, with a further one hour of in-surgery whitening being completed. The full kit includes gels, whitening toothpaste, sensitive serum, desensitisers, and the customised trays made previously form the digital scans.
Step three – the wax-up
The wax-up is a step we used to ensure the patient is completely happy with their new teeth before any final bridgework is produced. This patient tried in the wax-up to see the shape and sizes that Dr Salim was aiming to achieve. Minor alterations were made to the bridgework by adding more bulk onto back teeth. This ensured that more teeth would be shown. After his appointment was finished, the patient was extremely excited about how close he was getting to his new smile.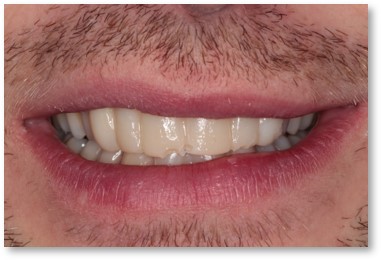 Step four – preparing the teeth

One of the last steps before this patient's new smile was finally fitted was to have his teeth prepared for his bridgework and veneers. To do this, the dentist will shave away a small amount of tooth enamel from the required teeth. This is done in a precise and secure manner to make sure they're a perfect size to have veneers and bridgework fitted over securely.

After this minor procedure was finalised, he was issued with temporary bridges and veneers while his final teeth where still being made by our laboratory.
Step five – final fit and composite bonding
This is the moment that patient would be able to see his final smile after having all preparatory tasks finished. He was booked in shortly after his teeth preparation to have his bespoke bridges and veneers fitted leaving a far more natural and appealing smile. After some minor composite bonding touch-ups, the patient's tooth gaps were gone! He was speechless seeing the final transformation!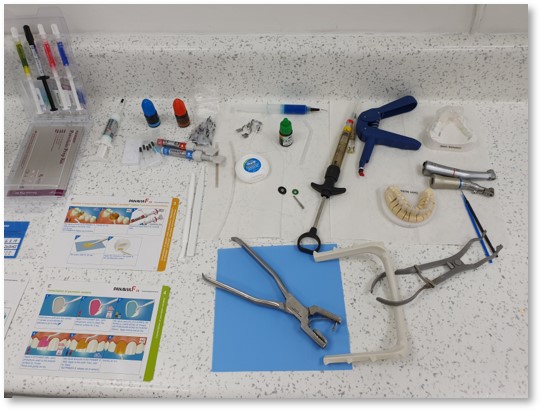 ---
Unsure about your dental health? Call your nearest Synergy Dental Clinic and we'll be happy to