Providing implants to patients is an art-form for many implantologists, and in most circumstances, their professional opinion is the deciding factor in how your treatment is carried out. To be able to perform implant surgery, you must have the relevant accreditation and experience to do so. This means that those who can perform this kind of treatment has a certain level of expertise in the field, and they are capable of making the best choices – this also includes the choice of having an x-ray or a CT-scan taken before any surgery is performed. This blog will examine the treatment of one of Dr Bagasi's patient's, along with the advantages of having CT-scans over x-rays.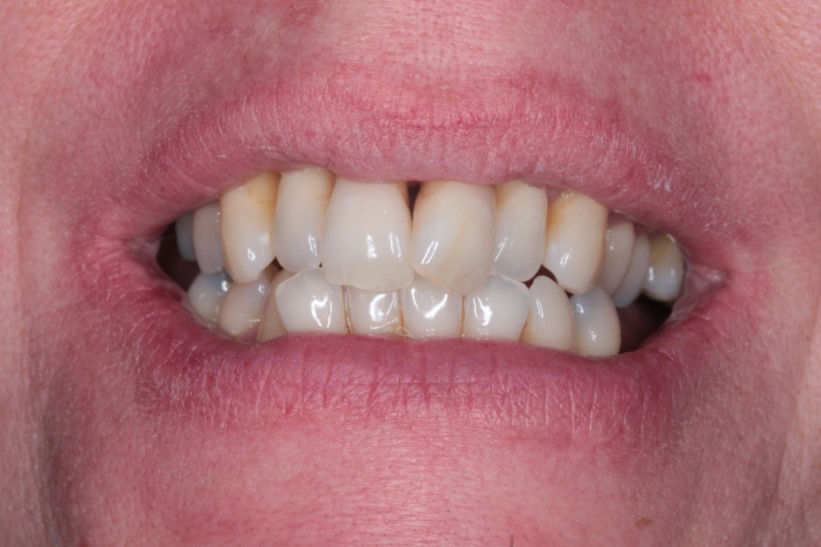 The patient featured in this case consulted with Dr Bagasi because of her very loose upper front teeth. It can be shocking to anyone who experiences a similar onset of symptoms, so getting your teeth checked and having options in place is something this patient was very keen on doing quickly. On her initial consultation, Dr Bagasi suggested two options were possible; she could have had a partial denture created to replace those loose teeth, or she could have two implants fitted which would hold a four-unit bridge in place permanently. She clearly favoured implants and went on to confirm this when consenting to implant treatment in the next step.
Step one – starting implant treatment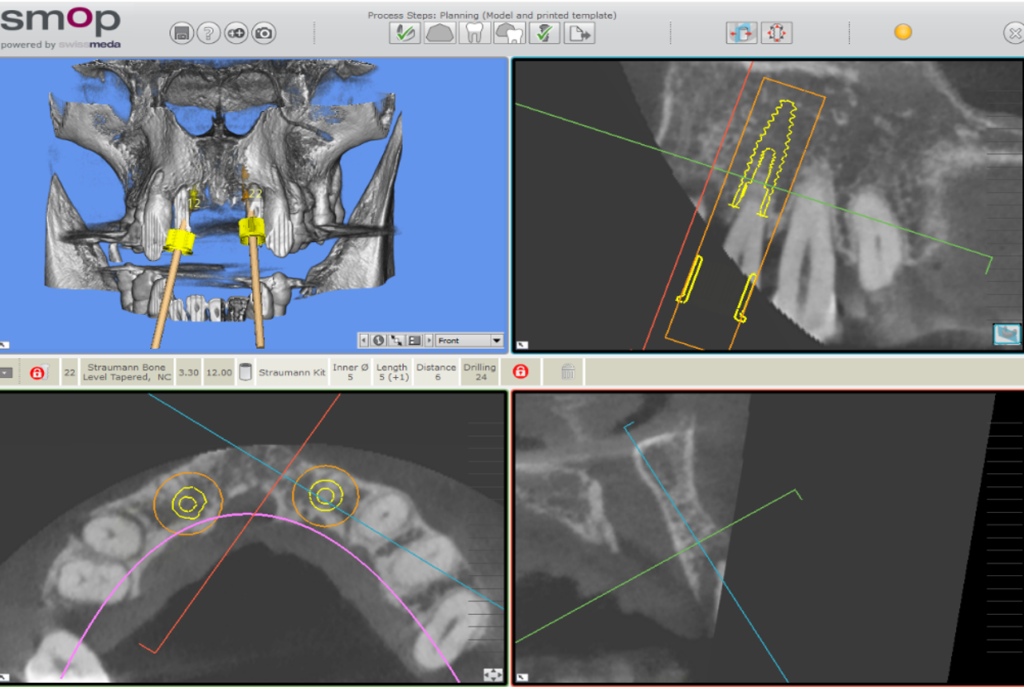 Before the surgery appointment could be booked, some circumstances of pre-planning were necessary. A summary of the entire process was produced into a written report whereby the patient was able to agree and sign, giving their consent to further treatment. Without this consent, Dr Bagasi would not be able to go any further with the treatment. Luckily, the patient was happy to agree, which left a CT-scan as the final step before booking in her implant surgery.
Dr Bagasi is keen on using digital solutions to ensure the quality of treatment for every patient. Particularly for this patient, he decided that a CT-scan would be most appropriate. The reason many prefer the use of CT-scan methods is because of the detail it can provide to pre-surgery planning. CT-scans offer a fully digitalised view of the inner-workings of the mouth. It, therefore, allows dentists to assess height and width of the jaw bone, and it also enabled a more precise placement of the implant, meaning that surgeons can work around areas which are more likely to cause failure or a bad reaction.
Step two – the surgery
The surgery appointment is carefully planned out, thanks to CT-scan methods, and will be the stage where the implants are fitted permanently into the jaw bone. Naturally, this step requires a period of healing (usually three months) to ensure the implants are fitted securely. Temporary dentures are typically given to patients so that they can still feel confident while their implants are healing and their final bridgework is being created.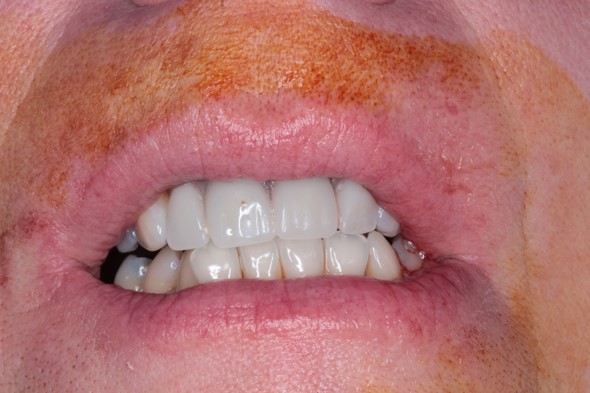 Step three – reviews and bridgework
After roughly three months and regular interim appointments, the patients returned to have her digital scan taken. This allowed her final teeth to be planned uniquely, and her scan was sent off to the lab where they produced her final bridgework.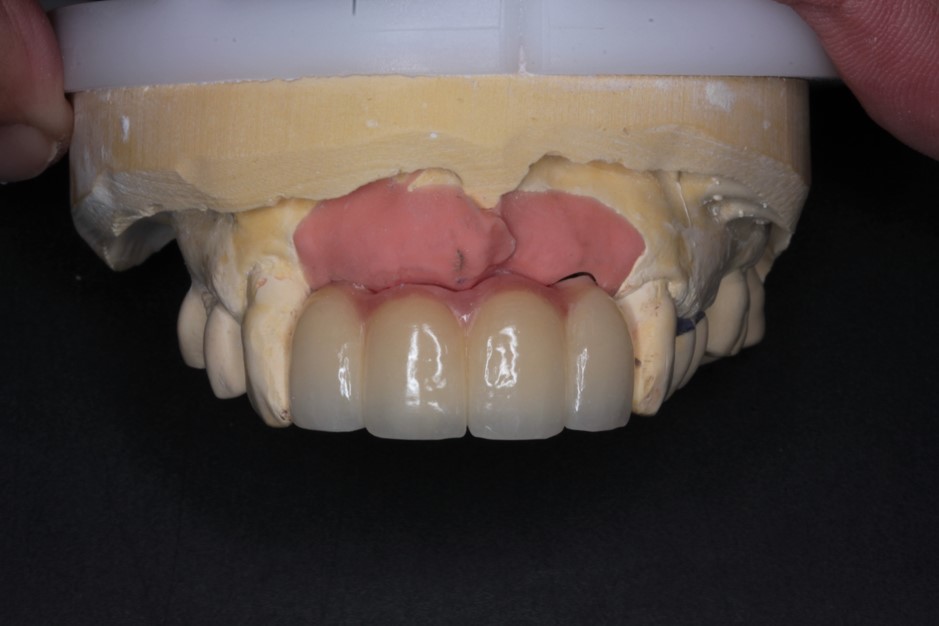 Step four – the final fit
After having the anxiety and fear of having no teeth, the final-fit stage can be very emotional for any patient. Dr Bagasi's patient was no different, and seeing her newly-designed smile was life-changing for her and heart-warming for the Synergy team to witness. Just take a look at her brand-new smile now!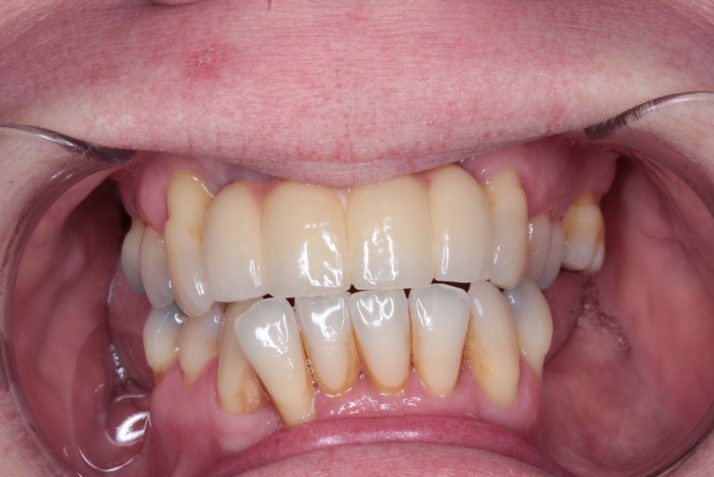 ---
Unsure about your dental health? Call your nearest Synergy Dental Clinic and we'll be happy to help.