The life of someone with missing teeth isn't a very pleasant one but this could change with a brand new set of same-day implants
The reality of the situation isn't just the risks and health complications associated with having no teeth, but there are also difficulties patients experience with even basic social interaction. Consider a quick conversation with an acquaintance, a staff party, or maybe even a celebratory family meal. It's unlikely that the majority of people would ever bat an eyelash at doing these, but for someone with missing teeth, even the smallest tasks can often feel overwhelming.
Your smile can contribute tremendously to your mental health, confidence, and overall well-being. By having a healthier-looking smile, you are far more likely to spend time smiling. This is what a lot of people lack with missing teeth, including one of Dr Bagasi's recent patients, Mr LB (abbreviated for patient anonymity). He booked in with Synergy Dental Blackpool for an initial consultation, where Dr Bagasi had a lengthy discussion regarding his current struggles and how he was feeling. When reflecting on this and taking into consideration the results of his oral examination, it was clear to Dr Bagasi that the patient was struggling with his lower arch the most.
From there, Dr Bagasi worked to compile a completely personalised treatment plan to best suit his circumstances. Dr Bagasi thought a full lower-arch bridge supported by dental implants and an upper suction denture was the best course of action. Granted that Mr LB passed all the required safety precautions, he was eligible to have his permanent bridgework fitted straight after his surgical procedure. This is a precise method known commonly as same-day implants.
Stage one – starting implant treatment
Before any kind of minor oral surgery can start to take shape, a few preliminary matters must first be completed. This includes having extensive checks of your current medical and social history. CT-scans are essential for complex procedures like same-day full arch implants. This is because the process must be done as precisely as possible. For more standard procedures, such as a single dental implant, an x-ray may suffice, but this will ultimately be the dentist's decision on what they require.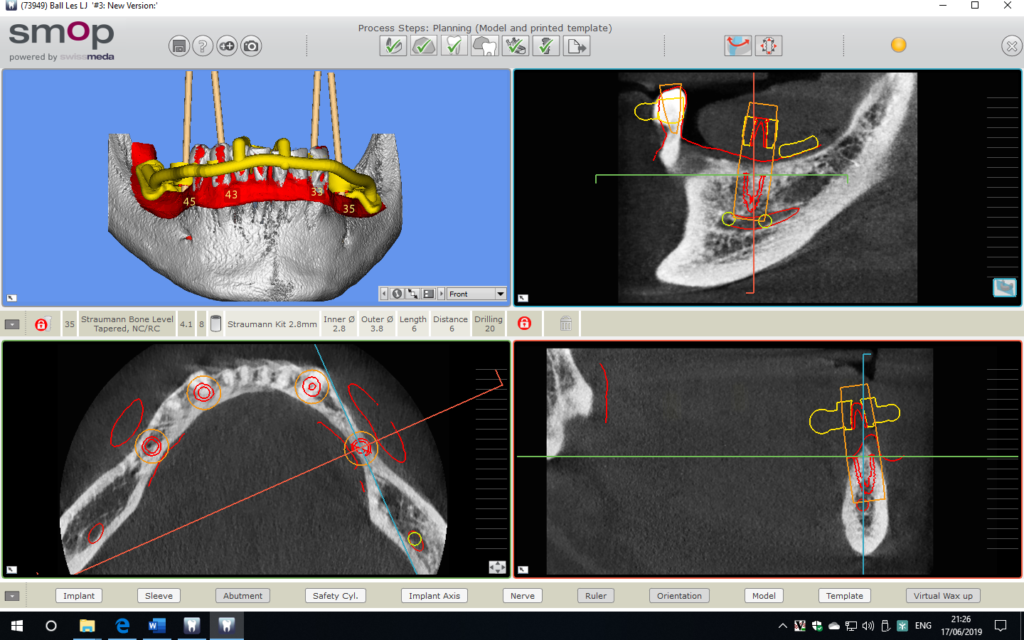 In the case of Mr LB, CT-scans were used to allow for the most minimally invasive procedure possible. The reason why CT-scans are so important for treatments of this nature is that they allow dentists to plan the positioning of the implant while being able to determine how healthy the inner structure of the jaw is. It allowed Dr Bagasi to avoid nerves and blood vessel trauma as much as possible, and he was able to choose the healthiest areas of the jawbone for implants to be placed, reducing any unnecessary risk of implant failure.
The last part of stage one will be for the full treatment plan to be mailed to the patient for them to have a thorough read over. It will include everything that will happen during the procedure, what we hope to achieve, possible risks, and the costing. Mr LB signed off to have the surgery, meaning the appointment was booked. Dr Bagasi was then able to start working on his patients brand new smile as soon as possible!
Stage two – the surgery
It was very important for Dr Bagasi that his patient was well informed and felt like he was being treated to the best standard possible. To ensure this, each patient must first approve the treatment. Once signed off, treatment can start by having your surgery appointment booked in. For Mr LB, the process involved in creating his temporary bridgework (those used after implant surgery) began so they would be ready for his booked surgery appointment.
All the essential preparatory tasks are completed before the surgery began. This included getting all staff briefed, equipment and material prepared, undergoing recommended sterilisation procedures, and making sure the patient is as comfortable as possible. Mr LB's procedure began with Dr Bagasi ensuring the surgical guide, which was previously created using the CT-scan, was ready and in-place inside the mouth. It allows for much more accuracy when placing dental implants.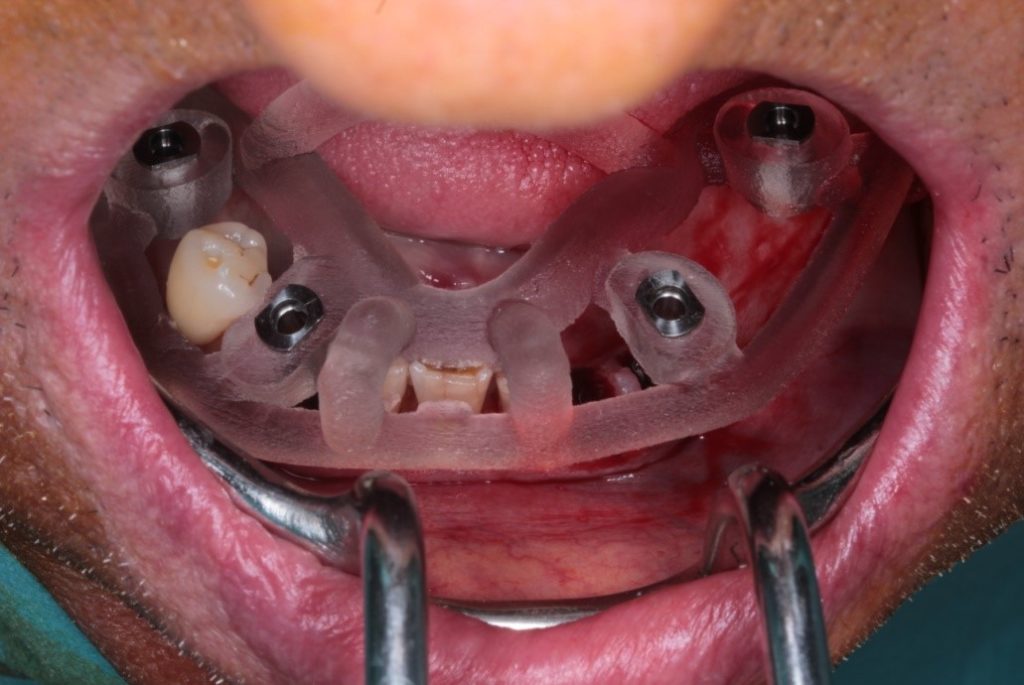 The procedure itself is quite easy and short-lived. For Mr LB's, which only requires four implants being placed, it can be over in a matter of two hours with very little discomfort felt. An appropriate local anaesthetic had been used in the jaw, ensuring that no pain will be felt when the surgery is being performed. Mr LB had four precisely place implant sites created in his lower jaw in total, and no bone grafting at all (requiring bone grafting would mean you are unsuitable for same-day implants). Mr LB felts the procedure went by without any issues, and he was ready for his brand-new smile. His temporary bridge was then put into place, and he left the clinic feeling fantastic!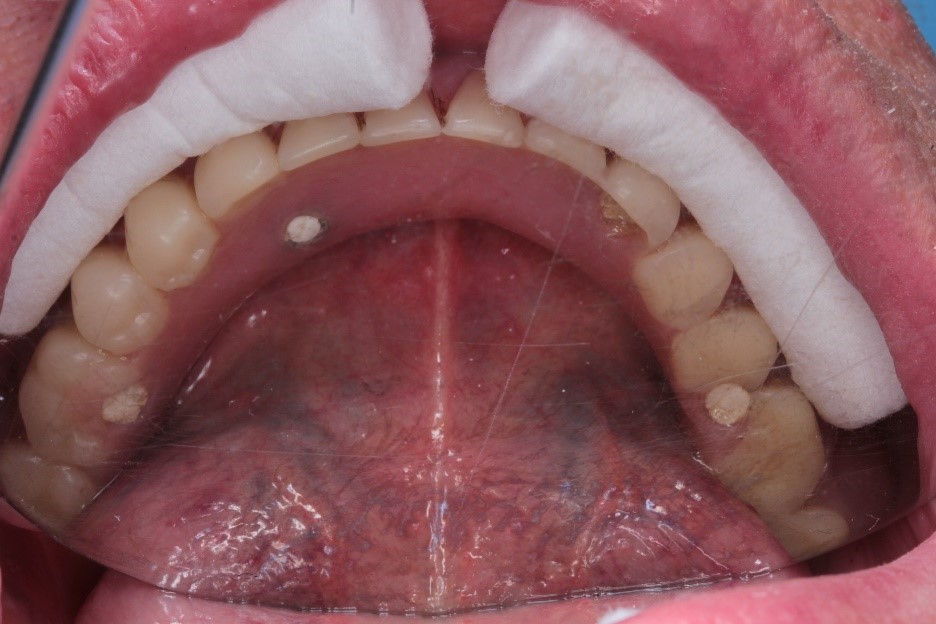 Stage three – healing, reviews, and bridgework
Whether or not you undertake same-day or traditional implant surgery, healing is still one of the most important stages of the entire process. Without correct healing, implant surgery can fail very quickly and lead to disastrous complications. While we cannot definitively prevent all complications, Synergy implantologists are well able in minimising the risk with their exceptional surgery skills, but without the appropriate healing, risk of complications will ultimately become higher.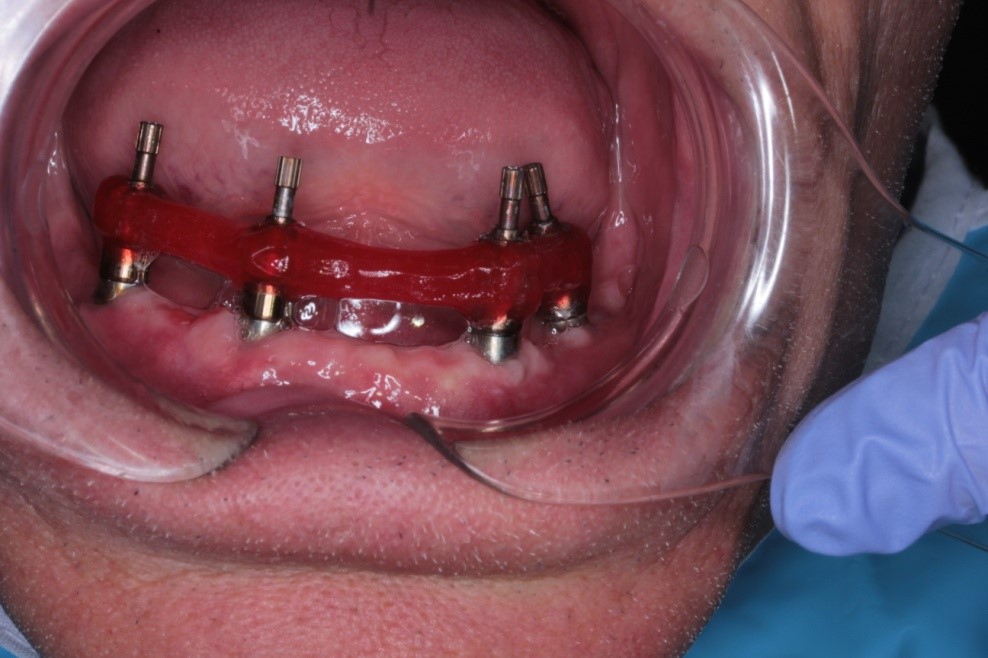 Three months is the advice for the bone to integrate with the implant and create a permanent, artificial tooth root. Mr LB was able to go through this period with his temporary fixed bridge, meaning he was able to get used to having the teeth and feeling much more confident than he did previously.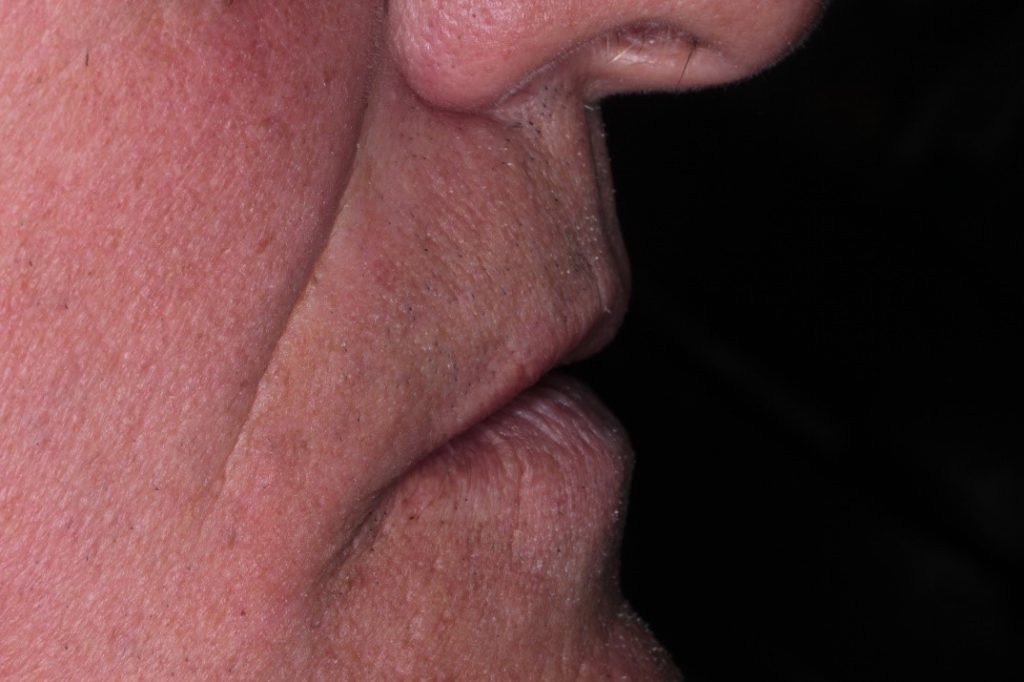 After the healing process was done to Dr Bagasi's standards, he made the permanent set of bridgework for Mr LB. A Duraly jig helps to create an impression that fits with the implants. Furthermore, a bite registration done, a wax try made, along with the construction of a titanium framework. This all ensured that Mr LB's new teeth would suit his face and personality the best. The lightweight, custom-milled titanium framework will be tried out in the mouth before the final fit as well.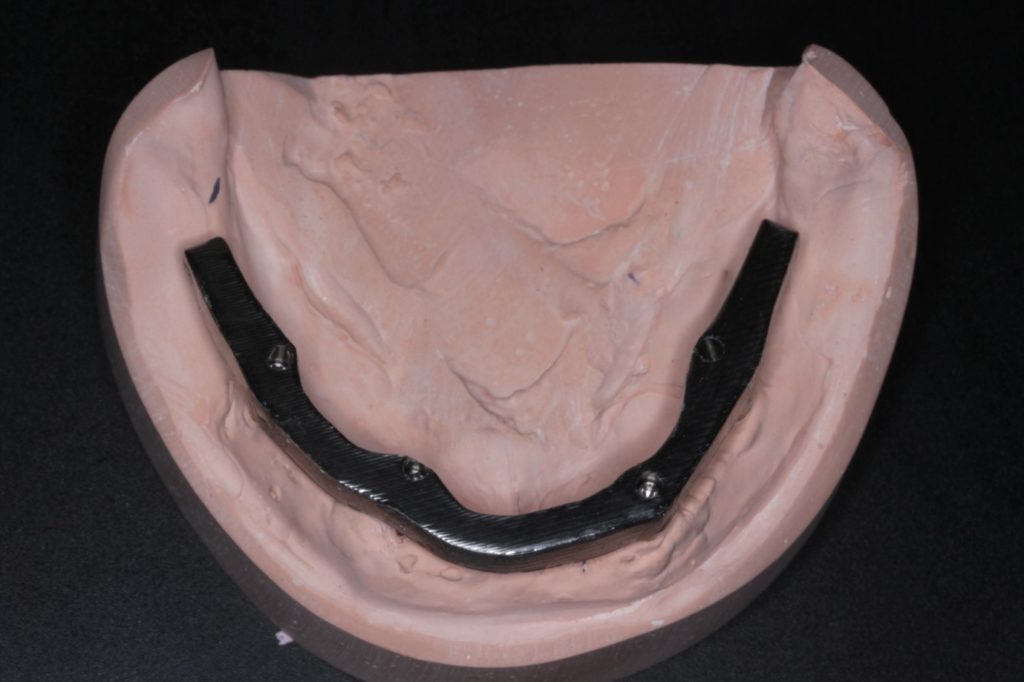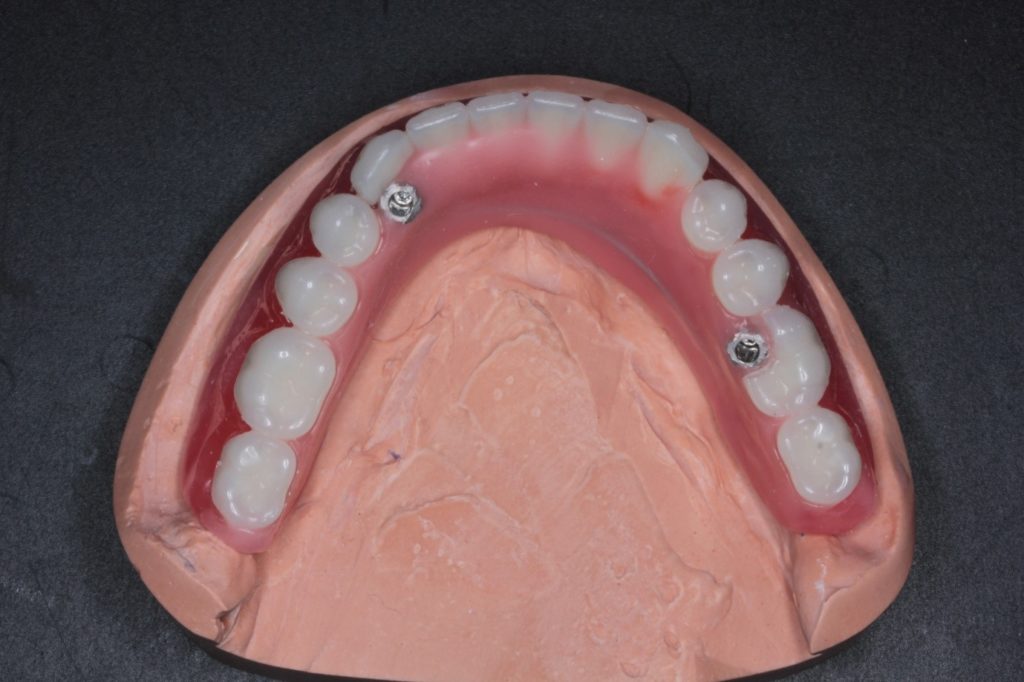 A final evaluation of the work Dr Bagasi has done began. It ensures that both Dr Bagasi and the patient are happy with the outcomes before the final fit.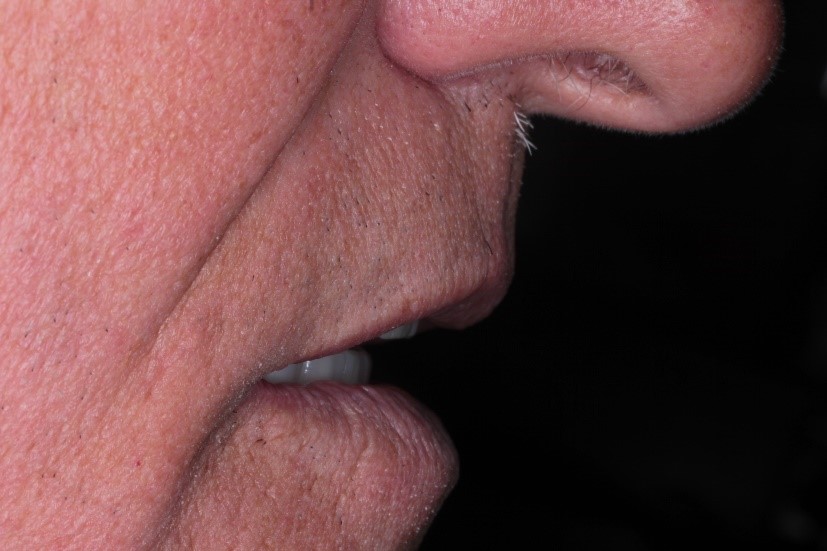 Stage four – implant final fit
It's an understandably exciting stage for those who have been hoping for new teeth for a long time. Mr LB had gone through all the hard work of surgery and healing to get to this stage, and it left him with an incredible new smile. The final fit stage will be where the patent sees the final bridgework and fit on the implants.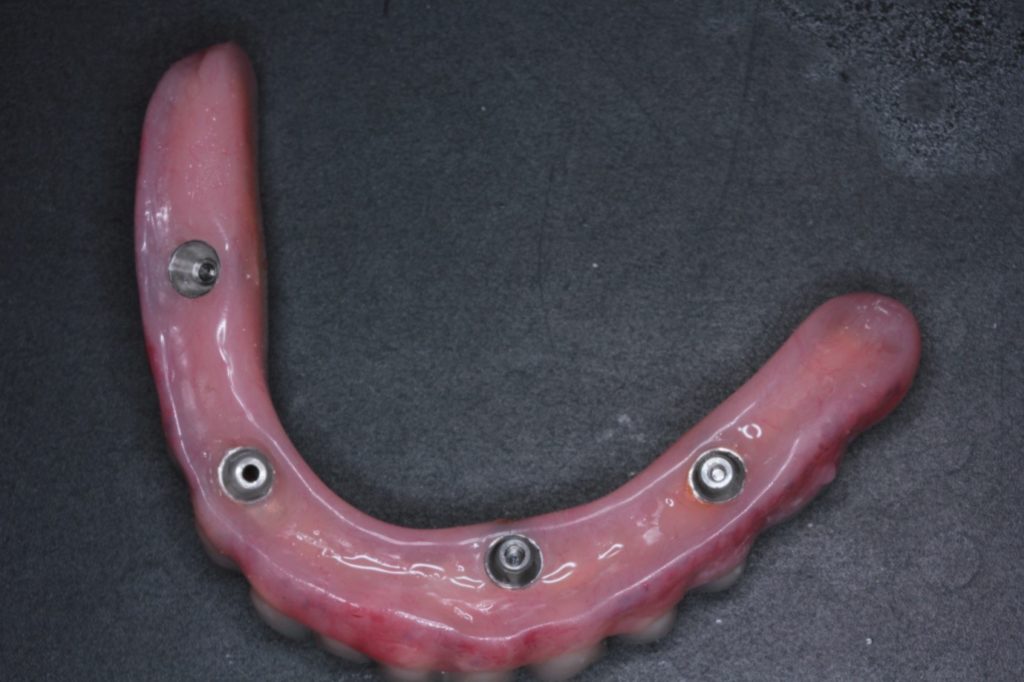 Each aspect of the smile met Dr Bagasi's standards, including bite ability, jaw movement, look and feel, patient satisfaction. All of this will ensure the teeth look the best they can, the patient is happy, and they function appropriately. Dr Bagasi's patient was incredibly happy with the results and is slowly building his confidence back-up every day. New teeth can be transformative and done in as little as a four-step treatment! Just look at Mr LB's after pictures!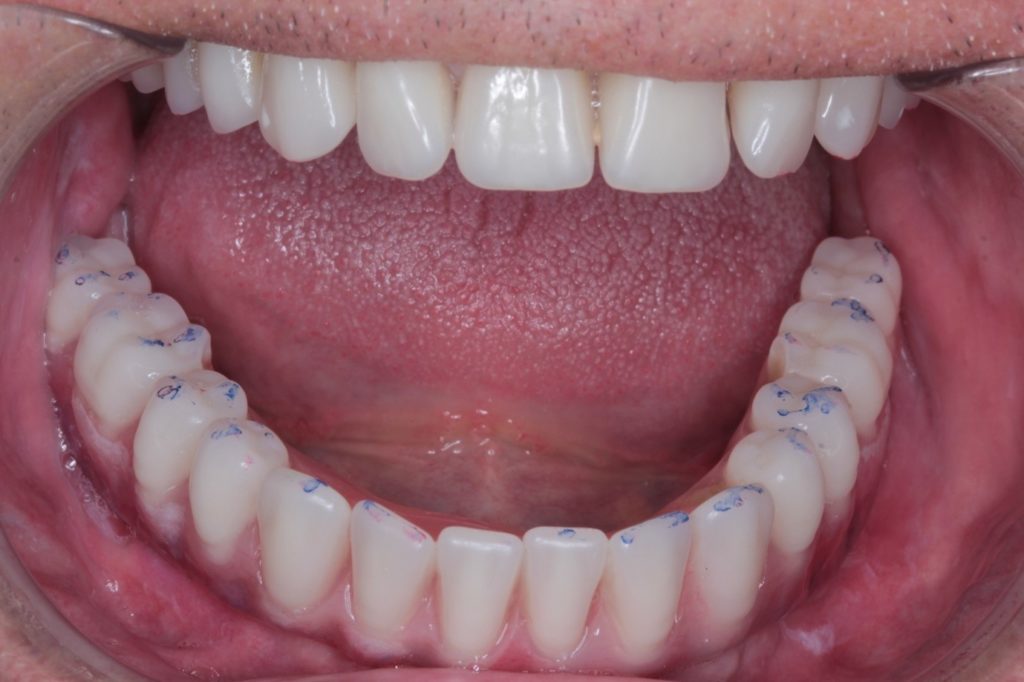 ---
Unsure about your dental health? Call your nearest Synergy Dental Clinic and we'll be happy to help.