Albeit a very rare occurrence in the hands of a highly trained and experienced dentist, implant failure can happen to any of us
The nature of implants requires the bone to fuse with the artificially placed implant for a secure fit in the mouth. This may not always happen for a variety of different reasons, but if an implant case is correctly planned, executed, and monitored, the chances of this happening are greatly reduced. Just ask one of Dr Bagasi's recent patients. She came to Synergy Dental for a consultation after the failure of her previous implant retained bridgework for the upper front teeth.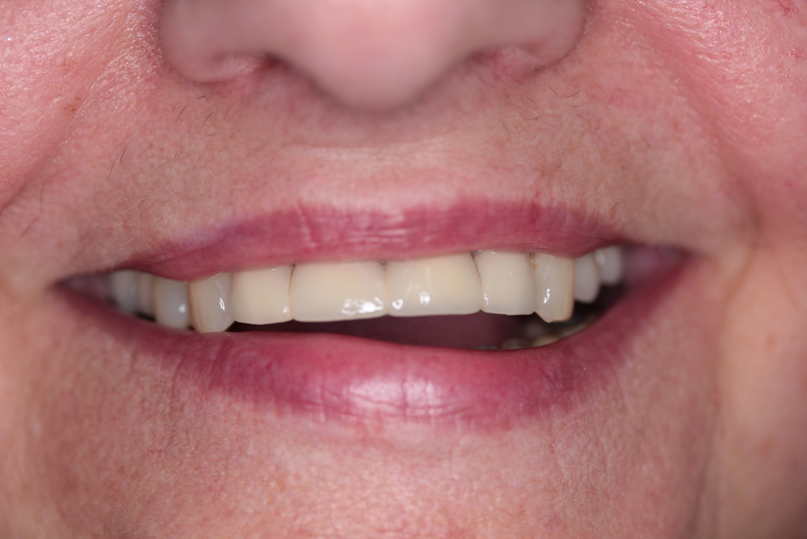 It can be an incredibly traumatic situation to find yourself in, particularly due to all the effort that's put into having implants in the first place. They require a lot of careful consideration and planning, expert knowledge to fit, and trial-and-error to get the bridgework to fit perfectly for each patient. For traditional implants, this can take more than six months in its entirety – so the last thing patients want is for them to fail. Luckily for Dr Bagasi's patient, who actively sought out his expertise, there was a chance of getting a second set of implants to work.
After having a minor examination of her oral health, an examination of the work that was previously done on her, and to make sure her general health was good, Dr Bagasi was happy to begin talking about the future. This was incredibly good news for this patient in particular after already going through the process with her previous dental provider. The options offered after her examination was either a partial denture or an implant-retained four-unit bridge using two implants, but the patient was very insistent on giving implants another go!
Step one – starting implant treatment
To begin this patient's treatment, Dr Bagasi took the view that CT-scans would be the most advisable method for planning the treatment. While x-rays can also be used on other variations of implant treatments, they do not offer the same security in having a non-invasive procedure. Reducing risks and post-surgery complications was very important to Dr Bagasi, particularly since this patient has already undergone the same treatment not long ago.
CT-scans offer a fully digitalised view of the mouth and jaw, and it allows the dentist to view the height and width of the jaw bone along with its overall strength. It allowed Dr Bagasi to create a fully customised surgical guide, whereby precise holes can be created to get the best implant placement
by avoiding any possible risky areas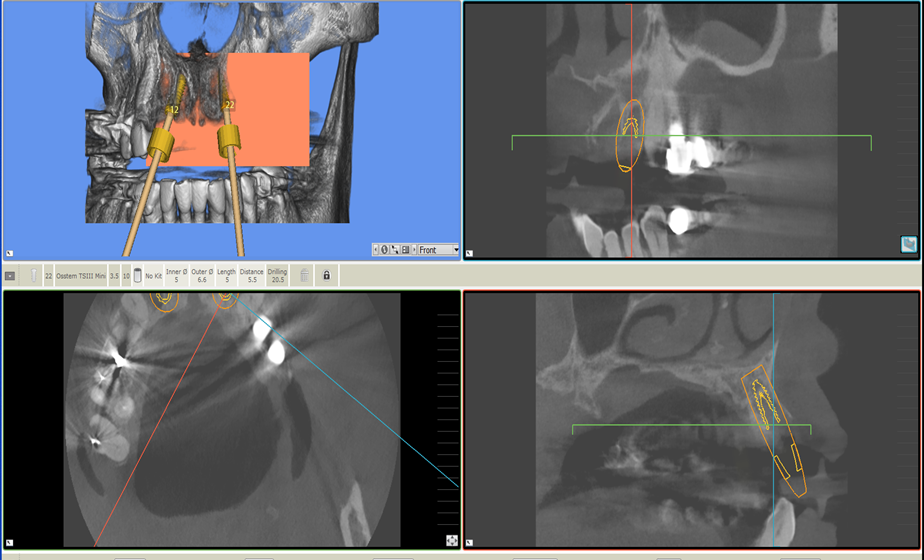 Consent to further treatment is the next thing to consider after this. The patient was sent her fully-personalised report. She was very happy to consent to get the treatment going as quickly as possible. Soon after her consent was acknowledged, Dr Bagasi booked her appointment into his diary!
Step two – the surgery
During this appointment, the patient's implants were placed. For most patients, the appointment will be booked out for a full morning or afternoon, but this surgery took roughly around four hours to complete (two hours per implant placed). The surgery was undergone using the CT scan surgical guide to ensure she has little reaction to the surgery. She was completely comfortable after the implants were placed, and excited to begin the healing process.
Step three – healing, reviews, and bridgework
The healing process can sometimes feel tedious when you're very excited about having your brand-new smile but it's an important step in ensuring your implants are healthy and will last you as long as possible. The process is usually split up into different check-up appointments so that healing can be monitored closely. Along with this, impressions for your customised bridgework will be completed so they can be made for when your implants are fully healed.
This patient's healing process was monitored very carefully to ensure there was not another failure. Only two weeks after the implant surgery, she had her first check-up appointment to monitor how well the implants were healing and if she was experiencing any discomfort, but the treatment was looking promising from the start. Over roughly nine weeks, the implants were checked again after six weeks, and she was called back four weeks after that to have her first impressions taken.
Over the next few weeks after that her impressions were taken once more, healing was checked more, and her bridgework was trialled to make sure it fits perfectly.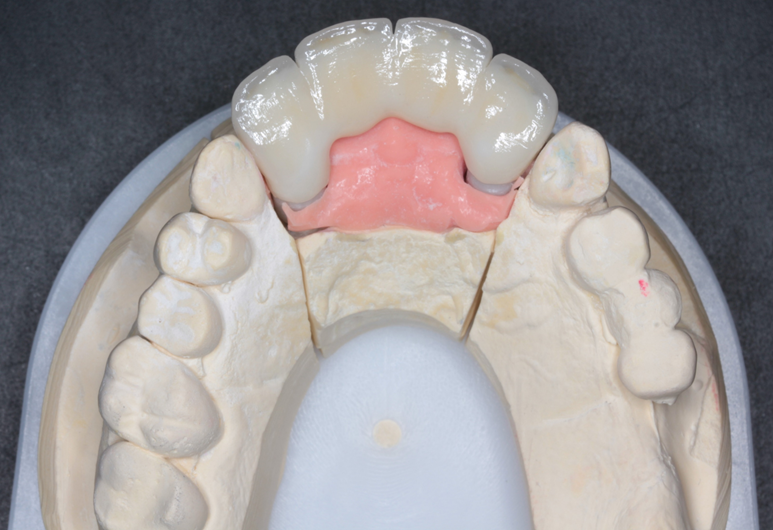 Step four – the final fit
After several weeks of waiting and keeping the implants healthy, the patient finally had the chance to see her second new set of front teeth! It was a very heart-warming moment for Dr Bagasi and his team and very emotional for the patient but she was just relieved she finally had a secure set of front teeth that she felt confident about.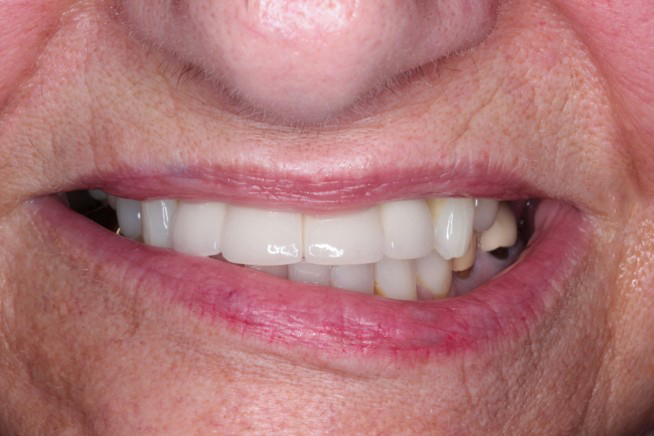 As it was discussed earlier, implants can sometimes fail, but having an expert with as much experience as possible can greatly minimise the risk of this happening at all. If this does happen though, certain things can be done after, so speaking with one of our dentists is always advised if you're in urgent need!
Unsure about your dental health? Call your nearest Synergy Dental Clinic and we'll be happy to help.