Having no teeth is not only a huge worry for many patients up and down the country, but it's another worry to be stuck without teeth while implants are healing. If you aren't already aware, there is a period roughly three months after implants have been fitted that must be set aside simply to allow implants to heal. After this period, your bridgework can be fitted permanently.
If bridgework is attached too soon to freshly fitted implants, it can greatly increase the chances of the implants failing. This would leave patients in discomfort and leave the surgery pointless. Luckily for these patients, there is no need to worry as your dentist will have the perfect solution for you. Just booking a consultation to discuss your concerns is completely doable! When implants are being fitted, dentists at Synergy will be sure to prepare a temporary denture (or temporary bridgework for those having same-day implant treatment) to fit over your implants. This will allow you to feel confident day-to-day, and still have the period to allow your implants to heal correctly.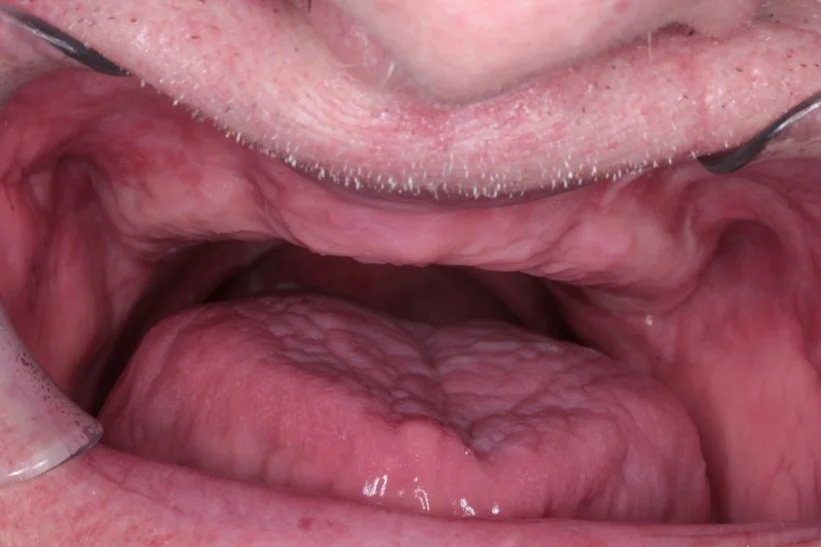 One of Dr Bagasi's recent patients not only had these concerns, but he was also very worried about his current teeth. With no upper teeth remaining, he felt very self-conscious about his appearance and was looking for the next best solution. He was hesitant about implants first simply because of the healing duration required, but a short consultation with Dr Bagasi put his mind at ease and confirmed he was happy to go ahead with a full implant-retained fixed hybrid acrylic bridge.
Step one – preparing for implant surgery
Essential preparatory tasks first need completing for this gentleman's surgery to go ahead, so Dr Bagasi wasted no time in completing all of these requirements. For example, the patient required a full CT scan of the upper jaw before any surgery was planned. This is because the CT scan would act as the basis for the surgical guide being used and the overall plan and execution. CT scans offer a fully digital model of the patient's mouth whereby the dentist can see the height and width of the jaw bone to ensure it is healthy enough to sustain surgery and recover.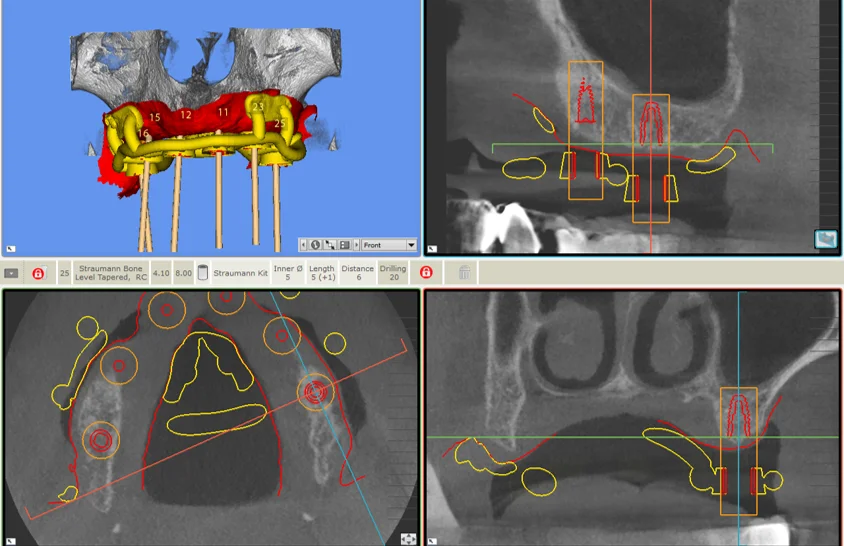 It allowed Dr Bagasi to plan precisely were each implant would be placed in the jaw, meaning it is a lot more likely surgery would have no side effects. This, along with another scan and a full report, was completed as quickly as possible so that the patient would have his implants very quickly.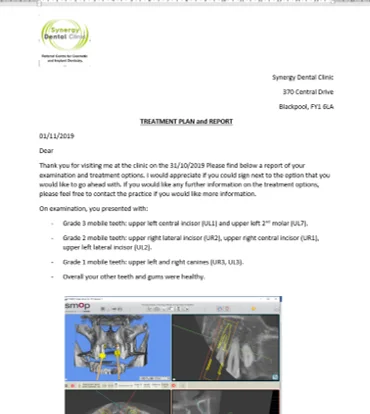 Step two – implant surgery
The patient had six Straumann implants placed in total, meaning the surgery likely took the entire afternoon to complete. Full arch implants are slightly more of a long procedure, simply because more care and attention needed to be given. As the surgery takes longer, the patient also needs to feel comfortable throughout! Because a CT-scan was taken previously, Dr Bagasi used this surgical guide to get the most precise placement for the implants. The surgery went entirely to plan. The only thing to do next was to wait for the implants to heal over three months, so the patient was given a well-fitting temporary denture to last this time. The patient was able to feel comfortable and confident that his final bridgework would be fitted in no time.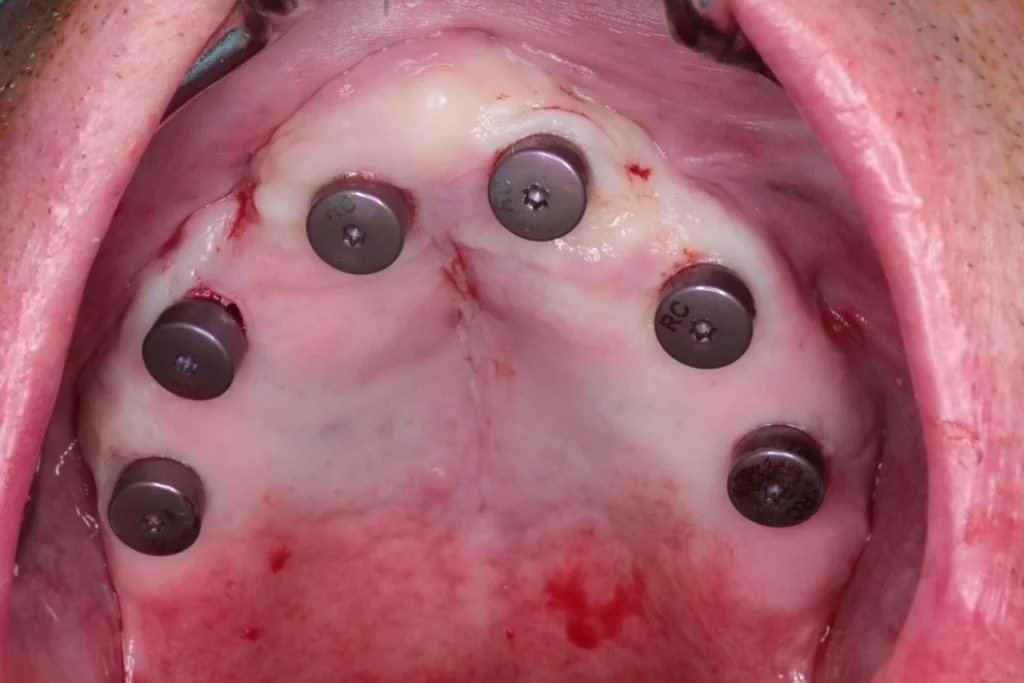 Step three – impression, bridgework, and more
Once the implants had enough time to heal effectively, the stage of having impressions or scans would then begin. For this patient, he had traditional impressions taken of the upper jaw. This was then sent to the lab to begin his bridgework, which was custom created for his mouth.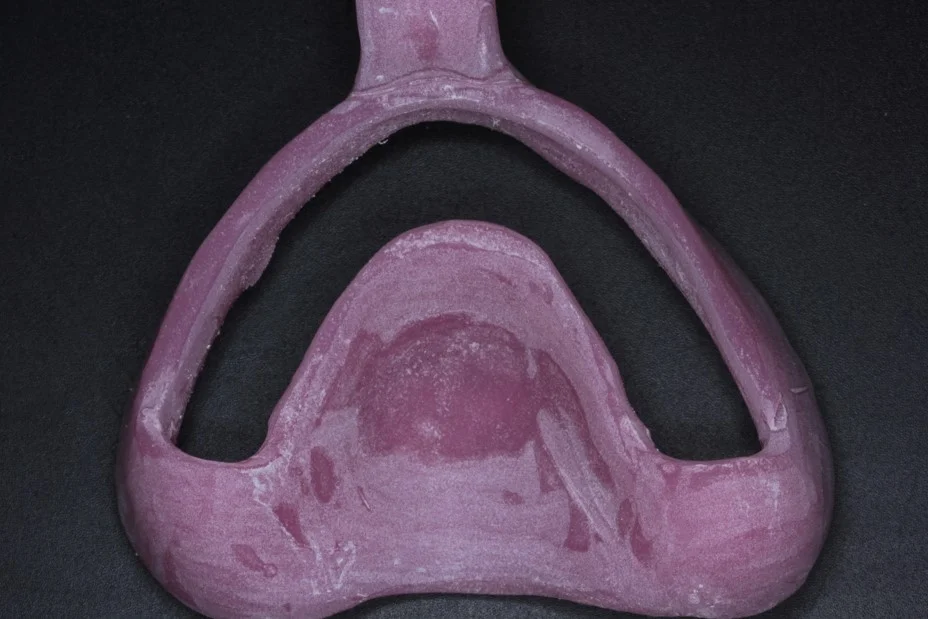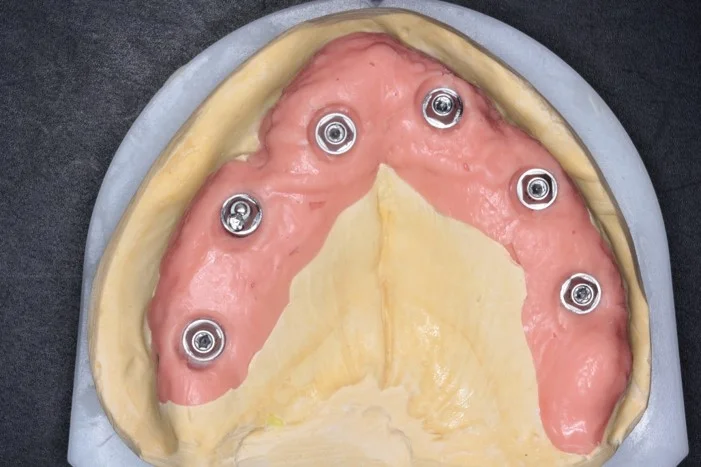 In addition to this, the abutments (posts which the final bridgework will attach onto) will then be fitted, the Duralay jig will be tried in to ensure a passive fit, a second Impregum impression taken, and a final bite registration taken. This all works towards having the final bridgework fit perfectly for this patient. To ensure he was pleased with the results, he tried in a wax try of the final bridge and the wax try with the titanium framework. This means any minor tweaks that need making can be made before the final fit. Each component is thoroughly tested before a final fit.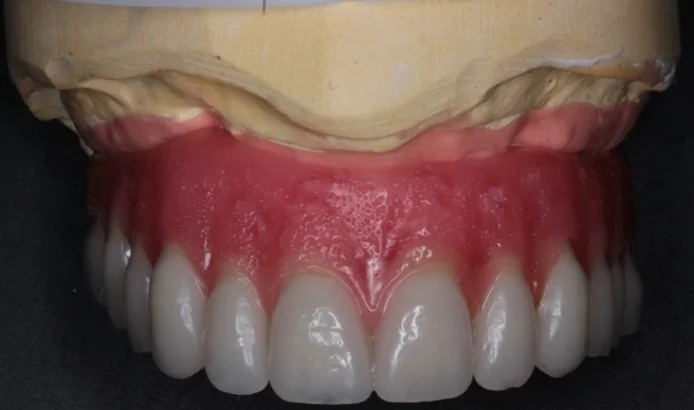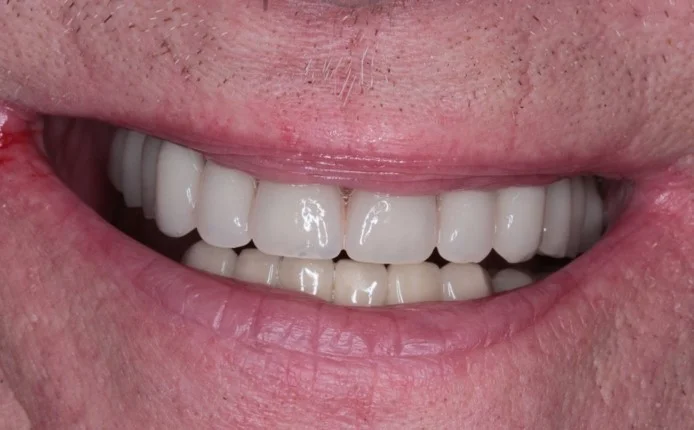 Step four – the final bridgework
The final fit will reveal the final acrylic bridgework permanently fitted to the patient's implants. This is the special stage where each patient can witness for themselves how happy a brand-new smile can make them. The patient was completely over the moon with the results and showered Dr Bagasi with endless praise! The after pictures below show just how much of a transformation this patient had in a matter of weeks!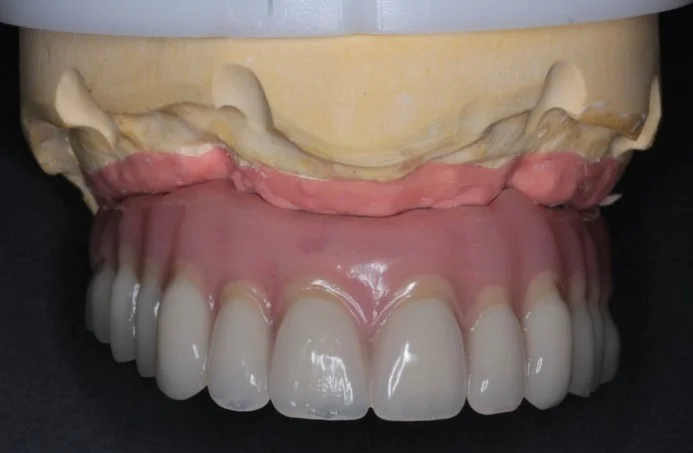 ---
Unsure about your dental health? Call your nearest Synergy Dental Clinic and we'll be happy to