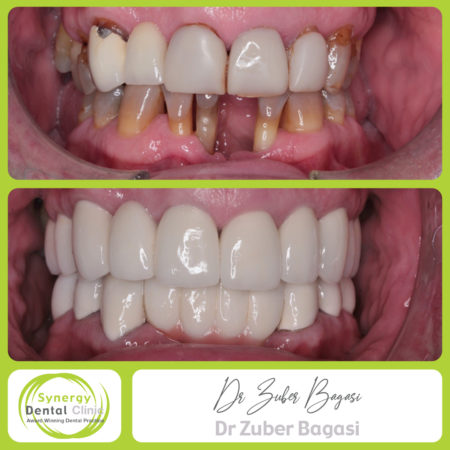 The treatment options listed below are commonly utilised in the process of creating your beautiful, long lasting smile:
Veneers– Minor cosmetic flaws such as chips, cracks, gaps in-between the teeth and minor malocclusion, can be corrected with dental veneers to create a uniform, straight, natural-looking, healthy smile.
Dental Crowns and Bridges – More severe decay or broken teeth may be corrected through the use of dental crowns. Dental bridges can be used where one or more teeth are missing to restore a smile.
Teeth Whitening – Teeth that are stained or discoloured can make you insecure about smiling and may have a negative impact on your confidence.
With professional teeth whitening, you can whiten your teeth by up to eight shades.
Gum Lifting and Reshaping – A gummy smile occurs when the gum tissue conceals more of the surfaces of the teeth than normal.
 Before we can begin any cosmetic work, we must check that you have sound oral health.
Inflammation of the gum tissue and infection has been linked to both diabetes and heart disease. Maintaining your oral health is our first priority at our practice.