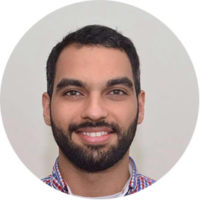 Qualifications
Experience includes: Oral Surgery Experience
• Single and multiple Unit Implants
• Full Arch Rehabilitation using DentalImplant Treatment
• Same Day Fixed Dental Implant Treatment
• Bone augmentation and Block Grafting
• PRP treatment
• IV SedationRestorative Experience
• Advanced restorative treatments
• Management of tooth wear cases
Orthodontic Experience
• Invisalign
• Inman Aligners

Reviews
Sophie Mcardle
2019-05-13T10:44:07+0000
Where do i even start, my journey with synergy dental has been over 6 months a special announcement to Richard my dentist, Lauren the head

receptionist & Carly the head dental nurse at the blackburn road surgery these 3 have been absolutely AMAZING! 15 months ago i had work done abroad which made my teeth terrible in a state i didnt even think was fixable Richard has done everything and more for me since the day i walked in if i needed an emergency appointment all 3 of them would make sure i would have one in the next hour, i was comforted and helped all the way through now i have a smile that has changed my life and gained a surgery where i actually feel are friends. i can totally understand why this surgery has won awards! all i can say is THANK YOU SO MUCH i cant recommend enough

read more
Tracey Lorraine McDonald
2019-04-22T09:44:03+0000
Lovely clinic and lovely staff! Highly recommend x
Lauren Cheetham
2019-04-18T21:00:38+0000
Lovely practice, very professional.
Leanne Webb
2019-04-18T15:59:17+0000
Excellent practice with very knowledgable and friendly staff. Would highly recommend
Emma Sergison
2019-04-18T15:17:24+0000
Fab service & treatments would recommend
Natalie Archer
2019-04-18T15:01:55+0000
Excellent service Very helpful staff
Zoë Jennings
2019-04-16T09:25:14+0000
Brilliant practice! Very professional.
Tina Bentley
2019-04-05T08:34:13+0000
lovely service and helpful staff would highly recommend them
Ann Townsend Telling
2018-09-26T15:03:13+0000
We've just moved into the area and I came to register and to see to a filling that had fallen out. I was very anxious as I have Asperger's Syndrome

but Vicky on reception and Chloe, the practice manager chatted to reassure me. I can't recall the dentist's name but he was lovely, very calming and listened carefully to me. He said he could fill my tooth, which I thought would mean an injection but he said not necessarily, my eyes widened and I explained that my pain level is non-existent (on the floor) so he gave me an injection that for the first time in my life, I didn't feel at all!!! When he'd finished, he explained my options for treatment in the future and gave me his recommendations. I was shaking so badly I asked both the dentist and his dental nurse to give me a hug, as it helps me calm down, which they both did without a moment's hesitation. I thanked them both and went downstairs to sign and pay and Chloe gave me another hug as I was still shaking and provided a drink and a couple of glucose tablets to help with my shaking. It worked and after sitting chatting for a little while, I stood to leave, no shaking, gave Chloe another hug as I reckon the practise and staff are cracking. I would recommend them without a moment's hesitation. Thank you all so much for your kindness and understanding. See you next time. Ann Telling

read more
David Sweeney
2018-05-16T10:07:21+0000
Salim Yakub Patel
2017-10-13T14:04:49+0000
Shizzy Sarwar
2017-10-13T08:37:31+0000
Always get an appointment as soon as possible and the staff is always and warm and friendly. Dr Naveed might just be the greatest dentist of all time
Naz Khan
2017-10-10T11:53:51+0000
Tom Fletcher
2017-10-10T10:11:57+0000
Always been given appointments soon and all staff very freindly and professional. I have recommended lots of freinds and family to this surgery
Peter Gregson
2017-10-03T16:15:46+0000
Long waiting time but receptionist told me and dentist really friendly made up for it.
Diane Tonner
2017-09-12T20:11:50+0000
Szabó Ildikó
2017-07-25T09:24:34+0000
Jennifer Kavanagh
2017-07-08T00:10:09+0000
Vanessa Kelly
2017-07-07T20:20:34+0000
Julie Duffy
2017-07-07T19:54:11+0000
Haazra Bux
2017-07-07T19:51:48+0000
Jacob Christian Khosla
2017-07-07T19:23:56+0000
Live Orthodontic Seminars
2017-04-06T13:52:22+0000
Aaron Kilroy
2017-01-31T09:52:27+0000
Always happy with there service I travel from near Stockport to Bolton for there service every time
Simon Croston
2017-01-12T10:30:46+0000
Rajesh Verma
2016-11-08T14:16:46+0000
Darren Scholes
2016-10-12T15:53:58+0000
Friendly staff especially the receptionist great staff
Stefan Zupnyk
2016-10-12T11:34:35+0000
Excellent staff on reception always friendly. The award winning Dr Naveed Patel was excellent as ever. He always makes you comfortable when your

sat in the chair. Amazing work today from Dr Naveed Patel . I Just wanted to say a Big thank you to Dr Naveed Patel and all his fantastic staff

read more
Firdous Khatri
2016-09-30T06:38:08+0000
Val Marshall
2016-06-09T09:47:02+0000
After receiving abominable service from my previous dentist, I made an appointment with Synergy in March for a much needed root canal filling and a

crown. I was very anxious about the procedures but everything was explained and I was reassured at each step. I have just finished my treatment and I can't praise Nav and his team enough. The new 'tooth' looks fab! Thank you! See you in six months!

read more
Adam Clenaghan
2016-06-08T11:04:35+0000
Really friendly helpful staff ready to answer any questions you might have. Made at ease if you are scared of the Dentist
Andy Burns
2016-05-26T22:20:39+0000
Great, well presented practice, friendly staff, I would have no hesitation recommending this dental service.
Carrie Breward
2016-01-20T11:37:09+0000
Been with this practice since opened on Blackburn road fabulous service. Messaged someone to see if they where taking on again for the sake of my son

who's almost 2 and I've just got him in straight away. Can't wait for his 1st visit get him used to going so ain't scared of the dentist

read more
Carrie Ashton
2016-01-17T20:28:27+0000
Fab dentist not only for me but also with my little boy.
Anjum Mahmood
2015-11-26T22:35:10+0000
Great care from Dr Naveed and the team. Has given me the confidence to smile again. Keep up the good work
Naeema Patel
2015-11-26T22:17:23+0000
Lovely dentist.. Very polite staff .. With good telephone manners. Will do what they promise! X
Zareen Gul
2015-11-26T18:02:19+0000
I'd definitely recommend this place.. the staff are pleasant, and the appointments are given promptly 🙂
Clair Louis Hancock
2015-11-26T11:05:44+0000
Nice and relaxed surgery. Pleasant staff and flexible appointments
Xcel Western
2015-08-06T11:02:13+0000
Excellent customer service, seen to on time. Will definitely be using This clinic again.
Alesha Jade Byrne
2015-06-18T18:49:07+0000
I went and had the professional hygiene clean here and the staff Aimee and Nuri were very welcoming and lovely and made me feel comfortable upon

arrival and throughout the process. Very professional Clinic.

read more
Beata Anna Parkot
2015-02-26T11:09:21+0000
Alex Berry
2014-11-16T15:22:50+0000
Zuber Bagasi
2014-07-14T19:56:36+0000